We had our first Brownie Girl Scout meeting of the year today! It went so great. I was super proud of myself for having the first two meetings all mapped out, with the next two basically ready to go.
Over the summer, we had a vote with the Brownie Troop and they voted 6 for It's Your Story, 5 for It's Your Planet, and 1 for It's Your World. We said we would do the first journey this year, and next year we would do the 2nd most voted on. Close call! Honestly, if it was tied, I probably would have been the tie breaker for It's Your Planet but I'm super glad it worked out this way because I think It's Your Story, World of Girls, is actually easier for 2nd graders then the It's Your Planet. I think, at least!
I got a lot of help online, and obviously from my super amazing co-leaders. One of the sites I found was all over the Internet and went over the first few sessions of World of Girls, and I found that helpful.
Prep Work: 
– Passport books, made by our Craft Leader/Co-Leader
– Flag images, printed on paper, ready for cutting/pasting into the passport
– World Map, purchased on Amazon for $1 (plus shipping!)
– Date Stamp, purchased on Amazon for $6 (plus shipping!)
Our Passports look amazing. (Download our World of Girls Passport Book!)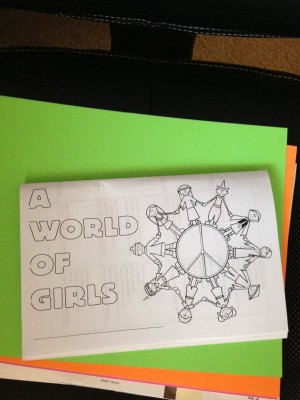 After lots of back and forth, our Craft Leader ended up putting together a beautiful book with various colors in stiff craft paper, ready for coloring and decorating.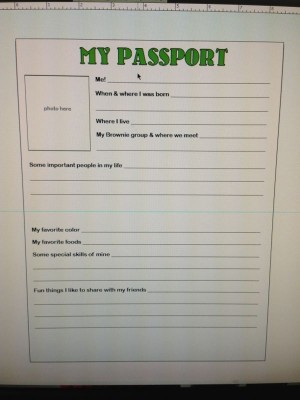 The inside goes over Passport details, and then each page of 'Hear a Story', 'Tell a Story', and 'Change a Story' with 5 pages (10 sides) of blank pages for country stamps and decorating any things that happened that are noteworthy.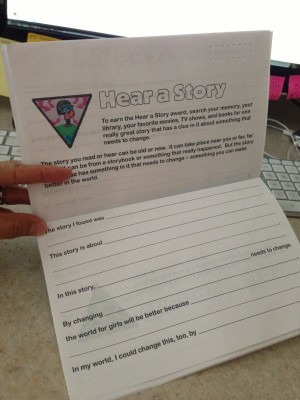 I had my lesson plan all laid out and it went pretty well. I went and grabbed the girls from the room and we sang (softly) through the halls the 'Everywhere We Go' song which they LOVED at our trip to Sea World. When we got in the room, we went right into Way Up In the Sky, and then did a round of Princess Pat. Those girls love to sing (and scream!) so I think that worked out well.
We incorporated the Bridge of Silence into our flag salute, promise, and law. I don't know how well it worked at the first meeting but hopefully it will get better.
I set up our snack sign up sheet the week before with the next 7 meetings worth of snack. Even though this is 'World of Girls' the Adult How-To guide only gives two or three country examples for snack! Argh! What's an A Type Mom who needs direction, to do?  Anyway, here is what I laid out:
Meeting 1 – Jordan – From the book! Suggested: Hummus, Pita Bread, Veggies to Dip, Fig Newtons
Meeting 2 – Italy – Since one of the games from Session 1 is from Italy, I went with it. Suggested: Cheeses, Italian Bread w/oil/basalmic, biscotti cookies, etc. We have two Mom's from here as well, so I figured one would grab it.
Meeting 3 – Mexico – A Mom has heritage from here, and one of the games in Session 4 is from Mexico. Suggested: Chips, dip, (cheese to make nachos?), Quesadillas, etc
Meeting 4 – Japan. From the book! Goes with the Bento boxes! They suggest Thailand but teach Bento Boxes? So strange. Suggested: Small healthy snacks; blueberries, apple slices, pretzels, popcorn – NEED: Cupcakes for Juliette Low's Bday
Meeting 5 – India. Not from the book but Diwali is around this time and a family always celebrates it. Luckily they signed up for this one too! Suggested: banana chips, samosas, biscuits, sugar cookies, etc. I'm hopeful they will have some good food ideas, Google was making it hard for me.
Meeting 6 – France. Easy snacks! Suggested: Croissants, cheese, chocolate (brownies?), etc.
Meeting 7 – Switzerland. Total cop out here. I wanted a hot chocolate bar for the holiday season (we did this last year) so I figured.. chocolate? Switzerland? Awesome!
Anyway, the snack worked out GREAT. Except it took forever to pass out, which it can tend to do. Then, we read the suggested story from the book. That took a good 10 minutes. Holy cow. It was long but there are only 4 stories in the book, so I don't think we will be boring them to death with it. It had to be done. They listened well, and didn't fidget too much.
They loved the hummus so much and it went well with pita bread and pita chips, so they munched while they listened.
We talked briefly about the Journey, showed them the story badges they would earn, and talked about how we are sisters to all girls scouts. They had some good tips.
We then took a vote on our Troop Crest and 'Lei' won which I was super happy with. The  meaning is friendship, love, and peace. It will look beautiful on their vests! The vote was close as it always is but I think they were all happy.
We got up to play the two suggested games in the Adult How-To guide. They were hilarious!
Banyoka is from the African countries of Zambia and Zaire. They sit on the floor and scoot on their butts around obstacles. Well, they promptly all bumped heads and noses and we had one casualty but she was fine. They giggled but it wasn't a big winner.
Cencio Mollo from Italy was next. I brought a scarf and we taught them how to say "Cencio Mollo has come for you!" and the girl replies "Let it come. I will not cry, laugh, or kiss it!" Each girl wanted to play (of course), and each girl managed to make the girl laugh. We almost had two hold outs but we were cat-calling them and laughing at the same time and eventually they cracked. 🙂 The girls all did their boon and then became 'it'. They all were laughing hysterically, falling down, and being extremely silly, so I think it worked.
Except that at point, I looked at the clock and it was 5 minutes until the end! So I brought out the passports, promised that we would start on them FIRST THING next time, and we gathered in our circle and said our friendship song.
So next meeting, instead of talking about stories and clues, we will do our passports first and see where we end up! I still have to bring out the map so all the girls can talk about where they are connected to around the world!
So many things to do, so little time.  Hopefully the next meetings go just as well because I know we will all start falling apart once we get close to the holidays! I'm super lucky to have co-leaders to pass the mantle to so we can have some other fun things planned in the future.
** Download our World of Girls Passport Book!
2nd Session: Read about our second session of World of Girls!
3rd Session: Clues & Change a Story
4th Session: Bento Boxes and Blessing Bags
5th Session: Trying to wrap up our journey.