Looking for the previous sessions on the It's Your Story, Tell It – World of Girls Brownie Girl Scout Journey? Check out
– Our First Meeting
– Second Meeting
– Third Meeting
Our FOURTH  MEETING of the year and I was GONE! It was so SAD. I had… HAD… to go to Vegas for a conference and to celebrate my husband's birthday. It was a trial, I tell you. Ahh well.
I luckily gave over the lesson plans to my co-leader and told her to 'have at it'! Except I was such a crazy person, I literally gave her 8 things to do, told her to pick, and then sent her about 4 'follow up' emails for things that 'we really should do'. haha – This is what happens when I've been holding the reins too long. It was nice… and I'm actually waiting for her to finish up her last two months of school and then we will share more of the lesson plans.
This meeting we already had a Japan theme and a parent brought in plastic Bento boxes and small snacks to fill them up with. It was also our last October meeting so we had to celebrate Juliette Low's birthday, and so they brought in cupcakes and went over a few details about that!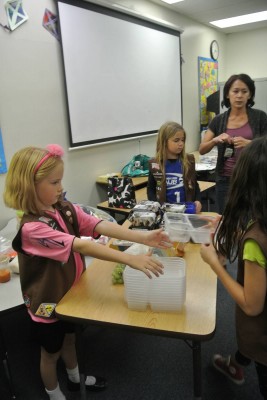 Then, they chilled out and did their World of Girls activity, found in the adult how-to guide, of making a circle and coloring in pictures of girls in their 'world'. The book actually had some helpful ideas of jump ropes, or drawing outside with chalk… which were GREAT ideas but with our hour meeting, it wasn't feasible to run outside and do it.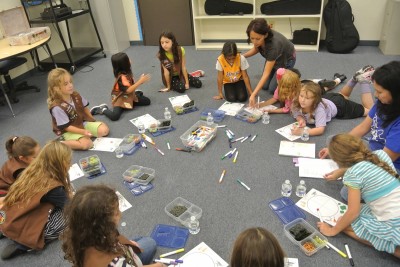 After that, they went over several songs because the girls were invited to participate in a Daisy Investiture Ceremony! They were so excited. They all voted on teaching Bazooka Bubble Gum song, so they had to go over the words. We also encouraged them to teach them "I'm a Little Daisy" song, sung to the tune of I'm a Little Teapot and then the Jigalo song which is a great ice-breaker.
Finally, they gathered them for a picture of some of the Blessing Bags we did for a Native Indian Reservation. The girls filled up the bags to the tippy top, covered one side in Christmas paper, and the other side decorated a piece of paper with who it was from and they were all sent off last Saturday.
For my girl, I took her to Target and she choose to make a bag for a 2-4 year old girl. At the same time, I decided to make a bag for an 8-10 year old boy. It was a really cute idea that our Service Unit put together.
I bought the freezer bags, cut up Christmas paper and construction paper. I then went to Target and bought some travel toothbrushes and a light up bouncy ball in the $1 section to start the bags off.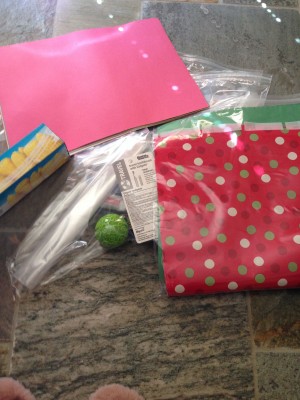 Here is how the bag would look, with one side of Christmas paper, and the other with construction paper.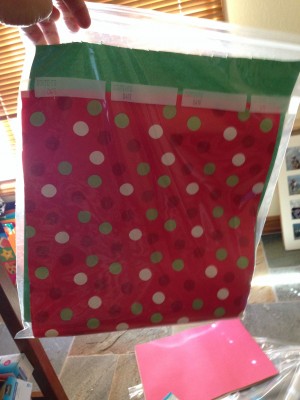 Here are our bags after we purchased all the 'stuff' in them. Sam picked out hers all by herself. She went with some princess toys, Fancy Nancy level 1 book, some soft clothes, socks, a hat, some candy, etc.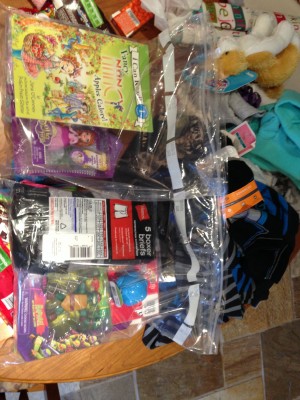 I went with a beanie, socks, undies, a nice sweater, Star Wars book, a few toys like Teenage Mutant Ninja turtles, candy, and gum.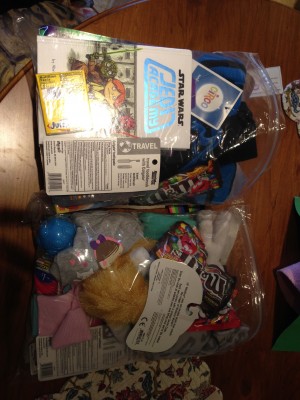 Here they are all filled up! It was HARD to get that Christmas paper in!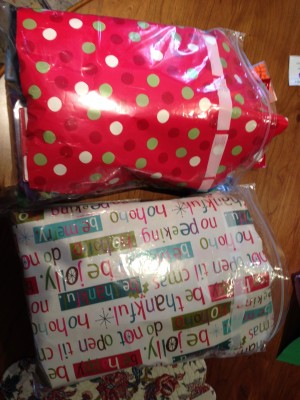 In the end, we had 16 blessing bags! 11 for girls and 5 for boys! We have such giving Brownie Girl Scouts, I love those girls!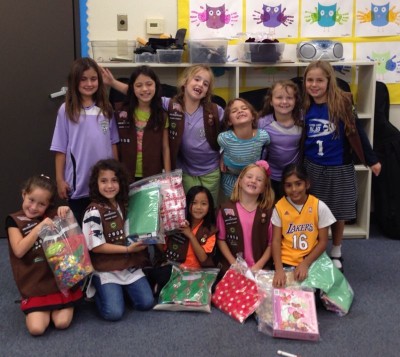 Skipping over our holiday meetings, check out our Session 5 – Ending our Journey.