Hi August!
When did you get here? So fast too, huh? Jeez.
Well, Sam is going into first grade (she tells me – I keep asking her to repeat Kindergarten, she is growing too fast!) and GG is going to be in P4 of preschool. Again, how did that happen? *sob* Every day they shock me with their jokes, intellect, and generally growing-upness.
When Sam had her first year of P3 we picked out a cute preschool lunchbox together. Holy cow, that feels like so long ago!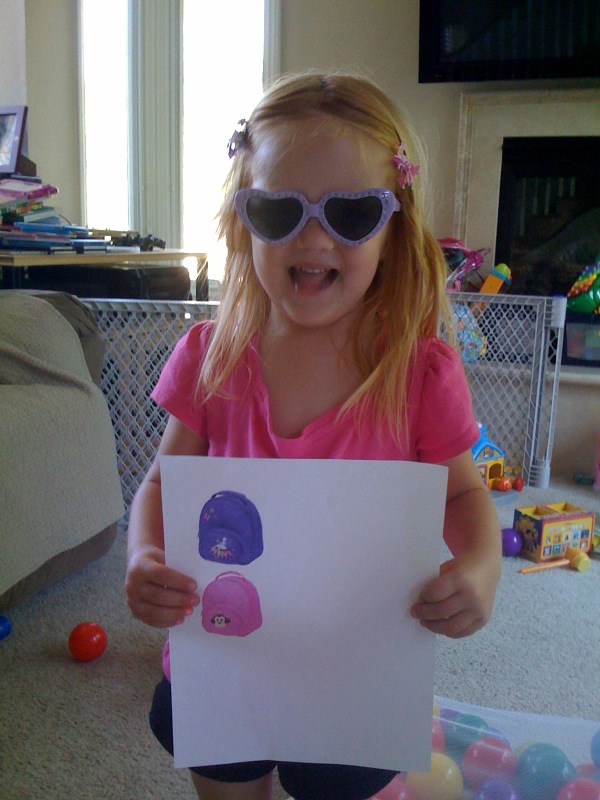 Yep, it was that top purple thing – although obviously that is the backpack and we also got the lunchbox too. It's been three years and that thing is TRASHED. Wow. I can't believe it lasted that long actually but I told her…. I think it's time for a new lunchbox!
We went through a bunch of options. I told her it needed to be something unique and nothing with cartoons on it. I hate when you walk in and there are three or four of the same lunch boxes. We kept looking and I remembered PlanetBox. I remembered it was EXPENSIVE though but I figured we should take a look.
Yea, we were hooked.
– Stainless steal
– Dishwasher safe
– Easy compartments
– Foods don't touch each other
– Family run business
– Environmentally friendly!
Here is what Sam selected: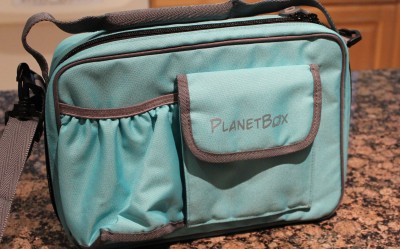 She went with the aqua bag – BLUE, MOM! I LIKE BLUE! Then, they have this package where the bag, the box, and the magnets all come together. So… I'm totally a sucker for advertising and a deal so we wrested over magnet ideas. Hubby had the one he liked, Sam had the one she liked, and I had the one I liked. Once we realized that the one *I* liked matched the bag she wanted… well, it was perfect!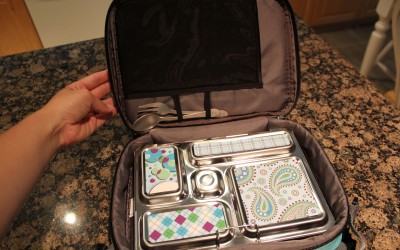 I think it's cute that they have different magnets you can get if the kids get bored. However we won't be switching out magnets. It's a cute idea though. If any of her classmates come to school with this lunchbox, hopefully they have different magnets!
The husband does the lunches so he was really thrilled with this lunch box but we used to have to plastic containers that we would put in her square lunchbox. There wasn't room for anything else so we would end up using ONE and then putting her snacks in plastic bags. WASTE!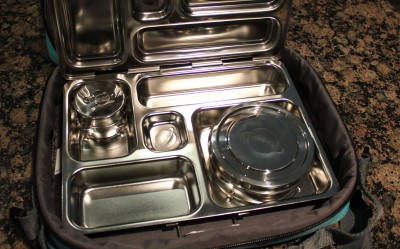 We got the smaller one. The 'deal' came with the two 'dippers'. The small one is for dipping sauces, or honestly it could probably fit a perfect amount of nuts & raisins for her snack. She is a pretty light eater. They have super cute meals ideas,
take a look
.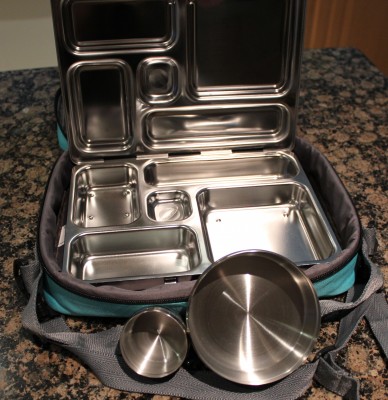 So we opened it up and went all through it as you can see.  The front has a pocket for a water bottle, as well as you can put a snack in the bigger 'dipper' and put it in the outside pocket. Perfect for 'grabbing' at snack time and not needed to open everything up.
We realized that we usually send Sam to school with a juice box for lunch though. So that would not fit inside the pack. It would fit on the outside with one of our slim ice packs we already had (how we have so many ice packs is crazy!) however we were telling her that maybe it might be best to send her to school with a water bottle and she can have her orange & cranberry juice that she likes at home. MUCH BETTER (HEALTHIER!) solution! We shall see if she goes for it. She might because she really loves this lunch box!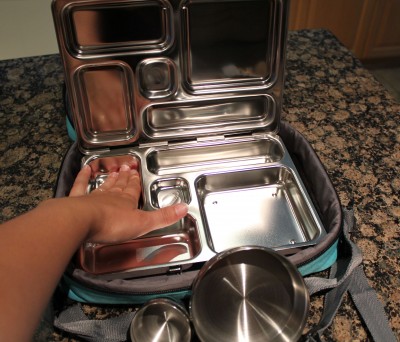 The Cons:
– The small one here does not fit a sandwich. You will need to cut the crust off probably. It might be a con for you but we actually use the sandwich thins (less bread!) and cut them in half and they will fit completely fine in here.
– The weight of the whole thing. My girl is 45lbs and this thing is HEAVY. We let her test it with just the handle and also the (as I call it) laptop strap and she prefers the strap. Luckily, she will only be carrying it around a little bit.
– The price! Holy expensive, batman! However, we had Sam's last lunch box for THREE years. I was about to buy a $40 regular lunch box and with this one we are saving on the environment, saving buying those plastic bags… Yea, I totally got sold. Oops. We also went for the ice pack in the special sleeve and the perfectly fitting spoon and fork. What? They were SO CUTE!  (Man, I just saw they offer a 10% discount for 10 or more products purchased. I should have gathered up a group!) Add on shipping and tax, well…
Why does your product cost what it does?

Most of us are used to the low cost of buying things made out of plastic and designed to be used and thrown away fairly quickly. Our product is different. We use a high quality, expensive material, and our products are intricately engineered to function well over time. All this costs more than the disposable items we are too used to consuming. We realize that our products can be a significant investment for many families. As you know, this is something that you and your child can use every weekday for years to come. It is a high quality product that is not cheap to produce. Our sincere hope is that people will find the investment was worth it for their family.  But don't take our word for it! See our 

Facebook

 page for opinions from real users on whether PlanetBox was worth the investment for their family.
It made me feel better that it is a family business too. It's a very high quality product and we don't mind paying for something that will last. If Sam's little lunch box lasted us three years, hopefully this will last six!
We really like it though. We shall see what we think in about three months but for now, it's awesome! I wish they had an embroidery option on it. I might get Sam's name done somewhere else. I hate to think of writing with a sharpie pen on that beautiful bag!
Sam's usual lunch is a sandwich, crunchy bar, string cheese, small bag of veggies, and nuts and rasins. We don't send much because she doesn't eat it all. So this will give us more options, keep the foods separated, and keep her excited about eating healthy!
Now Griffin… he needs help with eating healthier! He really wants a lunch box but we simply don't want to buy another one when he only eats half a sandwich at lunch! He's a very methodical eater and very slow. I have high hopes that we will be able to buy him one soon. 🙂
What do you think about these lunch boxes? What do your kids usually eat at school?