We took a little break from our Journey this week. Last year we had a private Diwali Festival of Lights celebration at one of the girls homes but this year it was too busy so we decided to have a full meeting on it! It was nice that everyone was able to come anyway!
We gathered the girls and did our ceremony & flag salute. They helped me remember which way to turn the silly markers on their kaper chart. I can never remember, ugh, so to put it in "ink" we are going NOT clockwise (ha!) and maybe I will remember it now. The poor girls. "I was already that job!" Blah. I feel like it's so great to turn these little jobs over to them anyway. They need to be responsible for more and more things, they are growing so fast!
We discussed two possibilities for some of our profit of our Fall Product sales. Donating and purchasing toys for the sick kids at either CHOC (school function) or St. Jude (parent connection) OR buying food for families here in Orange County. They voted for toys. Then, we talked about what portion of profits and they talked about two different options ($100 flat, or half the proceeds) and they voted for the MORE option, half the proceeds. They are such sweet and giving girls. I love them!
Then we passed it along to our parent who came in with a bunch of awesome Diwali stuff! Our snack helpers passed out some of the snack bringers favorite snacks. It was a type of breadstick, that is good with milk or just by itself, and then some noodles, along with some juice. The girls all liked the breadsticks and were iffy about the noodles but they didn't complain. Somehow though, my cup was the one filled with noodles, they kept pouring theirs into mine, haha.
We watched a movie about Rangoli. It was fascinating to learn how they pour sand and create such amazing images. In another part of India, they use paint to create Rangoli. They girls loved watching the YouTube video on the screen and asked a bunch of questions. Our parent then brought the girls a Rangoli printout for them to create!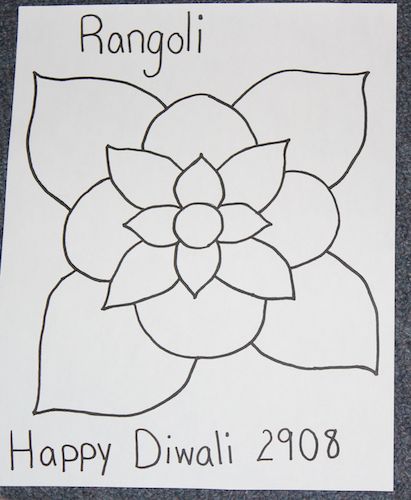 We got out the glue and colored pencils and then the parent brought out some beans. The girls had fun putting glue down, and then pouring beans over to decorate and use the pencils to create some pretty cool masterpieces.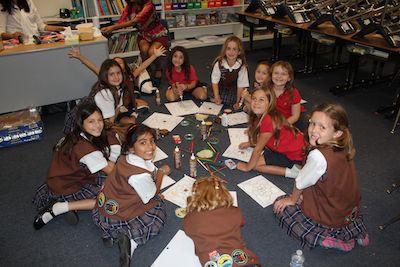 I turned on Taylor Swift on my phone and they all sang along. They are such crackups. Only about half of them know the words so I'm glad Christmas is coming up. They would sing Christmas carols all year long if we let them.
We also learned about the goddess of wealth, Lakshmi, and how they celebrate by putting in coins to wish for good grades, to keep their jobs, and other fun stuff. Also how they wash the money! Then they got wrapped up in a sari and were given one dollar, along with the girls favorite sweet. Score!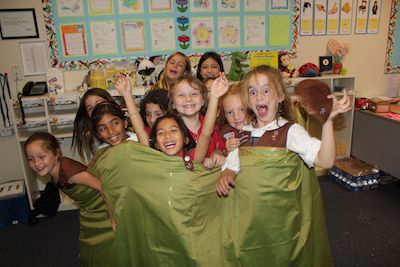 And that was our meeting!
I'm super lucky because I have a craft and a relay race all ready for next time but one of the parents wants to come in and talk about Chanukah next meeting! Double score! I love our parents, our girls are learning so many fun things that can connect them together.
Then, we only have one meeting in December and we are getting all the fixings ready to paints troop t-shirts. I have orders to find an exacto knife for tracing and cutting… Off to Hobby Lobby, I guess!
Cheers!
{ 0 comments }