I follow the Specific Carbohydrate Diet, which is a diet that was built to help people with Crohn's and Colitis Disease. We have to use fantastical adherence in following this diet to make our stomach's happy. The goal, of course, is to stay off the harmful medication that are used to treat those diseases, and live a healthy life in the meantime.
So you can imagine when thousands of people in a forum are constantly talking about places that they can buy food from to eat, that will be legal in accordance to our diet. When we find something they can eat, everyone is so happy.
There are certain food items that we've found to be able to eat. Like Cello Parmesan Whisps, and organic sliced turkey from Plaineville brand, or Pomi tomato paste to make zucchini spaghetti. I've been told that certain foods at Chipotle are legal, which I'm so scared to try. Obviously, there's butter and cheese that we can eat but to be able to go out somewhere and know that we're having something safe, that's good for our stomach, is pretty amazing.
Plus, no dishes.
Last year, people started talking about Pressed Juicery in Portland & Seattle. Ice cream "freezes" made from almond milk, sweetened with dates. HOLY COW. And no 24-hour waiting period for your ice cream maker to freeze. Their ingredients are all natural. It's raw, vegan, sugar-free, and made from the juices they create in their shop.  Or in their factory. I'm not sure which.
The ice cream freeze that would SCD legal is Vanilla Almond (almond, dates, sea salt, vanilla).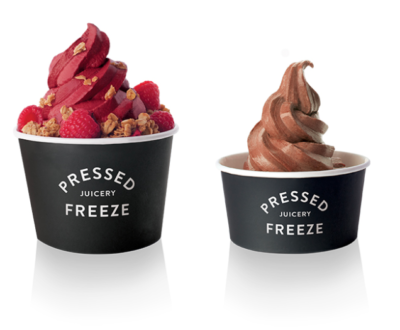 pic: thechalkboardmag.com
Sounds perfect, right?
However. However…
You just never know. So I decided to email the company.
"I follow the Specific Carbohydrate Diet for Crohns Disease and belong to several forums of people who talk about recipes and "legal" foods that we can purchase instead of having to cook everything. It's several thousand people in these forums, and this diet is slowly gaining popularity in several children's hospitals for treatment of IBD. Most notably CHOC in Seattle, WA.

We've been very excited about your freezes. They are delicious.

Cacao is illegal on our diet but your Vanilla Freeze and, it looks like, the Vanilla Almond "Signature" milk are legal.

A few questions…

Are there any manufacturing aids given to help or preserve the liquid?

Were the almonds roasted before you used them?

Are the almond soaked for a few hours before being ground up?"
I was incredibly disappointed to hear their response.
"Thank you for your email. I am glad to read that you are a fan of our freezes! Unfortunately, we do not have any manufacturing aids information available. Please also note, the process of the Almonds are proprietary information. I sincerely apologize for any inconvenience this may have caused you.

Please do not hesitate to let us know should you have any additional questions or concerns.

Yours in Health,
Delisa
Pressed Juicery"
When you are making healthy food for somebody and you promise it's good for them, yet you can't talk about manufacturing aids or how the base product is prepared? That's not great.
Obviously there are manufacturing aids that might need to be present to keep food preserved and have a shelf-life of some kind. This is one of the main factors why we have to make every single thing we eat on the Specific Carbohydrate Diet (SCD Diet). We just can't have anything that's fake. It severely upsets the bacteria in our gut.
I'm sure Pressed Juicery is not making the almond milk in the back of the store by the teenagers who work in front. They might be making it a factory somewhere.
They are probably making it in a factory somewhere.
And it's the manufacturing aids that can be so harmful to our stomachs. And how they process their almonds? How is this proprietary information? I've certainly made my own ice cream, my own juices, my own cashew or almond milk but the whole reason why I'm going out to buy the stuff is so I don't have to make it. I'm sick and tired of making it. I don't want to do the dishes.
What I do want to know is if the almonds are tampered with before they get made into milk. By tampered, I mean are they roasted? Is there starch added? Any other ingredients? And if there's any manufacturing aids being put into these things that I might be consuming.
Hearing this fantastically healthy company, who has a great message, refuse to tell me those things, makes me sad.
If anyone has any information on Pressed Juicery, let me know! I hate feeling guilty every time me and my daughter go down to have a freeze.
They did open a new shop in the Tustin District though. Much closer than the Spectrum.
Le sigh.