Okay, it's 2:45pm and I'm totally dragging. I almost want to take a nap but Dennis Yu came to the microphone and was high energy in introducing Merry and Kyle so let's do this.
Merry says to get comfortable between the two Facebook environment. Facebook assumes that Power Editor users are sophisticated and can play with it, break it, and see if it actually works.
The most compelling reason to use Power Editor is that it's much faster. Merry recommends bookmarking it but you can get to it from the top left pulldown.
Easily switch accounts in the top left once you are in. Also it's dang easy to create campaigns, ad sets, and ads. Although that recently changed and annoyed the heck out of Merry. * When FB works on things in the backend, we can feel it as advertisers because the platform gets buggy and wonky and goes crazy.
The quick draft is much cleaner that is on AdsManager. You choose or create a campaign/ad set/ad. Doing this will take 10 seconds but in the new flow, it ads time. These will drop your adsets into an open tab for editing. Seriously, it's just faster load time.
Edit like a ninja! You can quickly edit from ad set to ad set, and then ad. While the first ad set is selected, select the NEW ad set… and THEN unselect the old one.
I'm hoping that makes more sense when I'm editing it myself.. But it sounds reasonable. It's three extra steps Merry doesn't need, work fast, and figure out the ninja skills.
At a high level, on the top – delete/export/duplicate/create report/add campaign tags – Why did they put delete next to duplicate, Merry wants to know? Ugh. But moving on…
When you use the filtering tool in Power Editor with Campaign Tags, you can find all your winter campaigns and figure it out quickly.
Duplicate is one of Merry's fav features of Power Editor. You can duplicate ad sets, audiences… it's just faster. It loads in a snap. You can also duplicate more than one at a time. One thing to keep an eye on is FB will default to "always on" but you obviously might not want that. One thing recently found is that when she paused a campaign in FB recently, then turned it on.. but it turned on all the placements she had not selected. Keep your eye on those types of things!
Filters! Ads Manager has this too but remember LOAD TIME.
Power Editor Only
Easily Split Audiences – Kyler is going to talk about it
Quick Edits – Find and Replace! Yes!
Any new features go straight to Power Editor
Merry really wishes Power Editor was a desktop tool.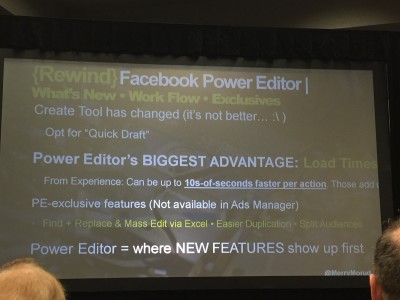 Merry says that was the fastest preso she has ever done because she wants Kyler to go live.
Kyler is up! He's with HostGator.
He wants to go over 6 tips and tricks you can use today. But then he's going to abandon the deck and go live instead. Kyler likes to play with things… basically exploit them. He sounds like a true marketer, Merry says.
He warns us that he talks super fast, he says we should throw pens at him if so. He might gesture oddly with his hands, he says sorry. Visuals > Text
Naming Structures are up first. Kyler has a certain way with these. Within the Power Editor, down to the ad set level, select them all and then Edit. Under Ad Set, you can "Rename using available fields". GREAT for mass changes. He always creates campaigns faster, and then can go back and change it.
Custom fields for mobile or destop.
He likes "US-Test-18+-All=Interest 1, Interest 2-Buyer Lookalike Audience" It's very structured and not like "Ad Set 1" "Ad Set 2".
Social Proof
He ran two ads for a marketer. One had the faces below with the shares, one did not. Obviously the images and likes at the bottom did better. If you are creating an ad, you can put the text and images.. but he likes to keep the social engagments. He goes to..
Page Posts (Top Left, All Tooks – Page Posts), it goes to your dark posts. He had two ads. He goes to "Use Existing Posts" and find the post. It keeps the previous engagement which is awesome.
Kyler is saying you can actually edit an old ad. He hopes this is the one thing you can remember.
He has this ad, he couldn't edit it. So he goes in to Power Editor, selects all the ads… I'm a little lost at this point. Obviously this might be easier when you are in the account. He did something and kept saving and then he could edit the post again.
There were some questions about
Split Audiences
Say you have this ad, it's doing great, but you have it from 18-64 both men and women. But when you look at it, it's only going mostly to 18-24 / women. So that is terrible. You can go to Split Audience, Add an ad set, select Males / 18/24 and add new ones to make an age range change. So when you create budgets, you can unclick it and it will split the money between all of them. So that will force your ad to go to your other audiences so you can get full coverage.
Bring Light to Dark Posts
We are going back to his other example. (I think my problem is I don't get what dark posts is exactly… something about not doing ads before? Zero reach for organic?) Something about selecting the dark post and then checking it, going to edit, and hitting publish. It did something like republish it to get more organic reach.
(I clearly should have gone to the other Facebook trainings today…)
Saving Audiences (I think – Kyler was right, he talks fast but dang, he knows a lot!)
Luckily, I have actually USED saved audiences! You create one, you name your audience, and then you can select it again. I do this through regular AdManager… but he's showing that, then he's going back into Power Editor and into the Ad Sets, he clicks on… dang, I missed it.
Where it says New Audience, there is a little arrow, you click on it, and then you go back to your saved audience.
You can also exclude people who have gone to your website and converted. Ooh, that sounds cool.
Q – something about getting the initial likes to the post
A – Merry is saying that's good for evergreen content. If you put stuff out there organically and put $5 or $10 on it and it does well, you can run it later.
Dennis jumped in. A friend published a post that said Happy Monday, it worked really well. So with the saved audience, he targets it to people who have visited in the last 30 days and they do it every monday, so it's like remarketing.
You can also target people who have engaged with your posts and sponsored ads? Merry can't wait to dive into that.
Kyler created an audience of people who have spent 25% time watching a video, and to send it back to them.
Q – What's the best strategy for understanding the relative value of "something" in power editor. How do you run them separately.
A – That's why saved audience is great. I have a lookalike audience and upload list. I can exclude the upload list and just want ads going to a certain segment. Merry would say that all custom audiences serve their own purposes. You don't want to retarget the people who have already seen it. You can also do custom combos with website pixels. They hit "this page" but not "that page" and they haven't been back in "two weeks". When you have  lead gen and dumped in your email data and then created lookalike audiences of people who have already purchased…
Dennis says the the cheapest audience is the video audience. Why? Because they have to stay there for 3 seconds they become part of a cookie pool. He starts talking about a native user id. You have to treat it like a lead. And then measure what the value of the user is, after watching that video, you can go into the custom audiences.
I think this makes more sense if you are listening to them rather than reading this. Sigh.
So basically,
Merry: Video ads are amazing for branding. Dirt cheap though. Work better when it's a short video since we have short attention spans. Add a bitly link in the update text of the video.
Kyler and Merry talked about something I am NOT ALLOWED TO WRITE ABOUT 😉 Mum's the word.
Great session!