I've loved watching Lindsey doing her weekly write-ups. Totally stealing it. For now. It's a nice overflow of information, cataloging her thoughts and dreams, small bits in her life. This is what my blog used to be but FB, Insta, and Twitter have taken over. Not to mention life, kids, house, animals, family, friends…
I'm used to using the fiscal weeks in my work. Four – Four – Five, if you do it too. We are going into the third week of February which means last week was week six of the year. We shall see how this will go.
**
Work is busy. Constant testing on our website because we are still finding bugs left and right. It's finally looking better but there is something every day. Argh.
S had another soccer tryout on Tuesday. She's been a champ the last six weeks. She's not a super star in soccer but she wants to be. Her dream is to play on the National team. I gently suggest she might want to practice more but she's a busy bee with school, taekwondo, Girl Scouts, and also soccer. Soccer is her main priority but she's in a contract with taekwondo. Soooo close to her black belt! She's not ready for flight 1, and flight 2 is probably a little iffy in the soccer world of club. On Tuesday she learned she couldn't get on the club she was hoping for. Their flight two wasn't forming because not enough girls were there. They lost a whole team to another club.
The birth year changes in soccer are such a blow. The main clubs we were hoping to try for flight 2 or flight 3 are all in chaos and have run every which way. It's a little sad.
For now, she decided she wants to play soccer at school instead of go join the next club team that is REFORMING because everyone left for yet ANOTHER club. We've tried out at three different clubs.. Ugh. So stressful. She's not at the club level, the mid level is changing and might not have enough room. (The mid level had five teams last season and they just changed it to allow two teams…) If she goes to rec, she's stuck with a parent volunteer coach who might not teach her what she needs to know. Maybe private coaching over the summer…
Her school soccer should be fun the next three months however we also made the decision to leave her private school next year for public and there are no sports in elementary public school. Honestly. Maybe she should test out volleyball or swimming but it's hard when your kid says she loves soccer 110% but no coach wants her.
She's busy enough. Healthy (THANKFULLY!) and doing great in school. We will figure it out.
G is just chilling. He's in 2nd grade and just finished all his math objectives through 3rd grade. He's almost at S's level for math. Little smarty pants. He's loving taekwondo. Working on his second degree black belt.
I end up getting out for lunch twice during the week. Once with my step-dad and best friend as she is being recommended for marketing work at another cmopany. I'm called in for a nice lunch and moral support, I guess. We went to Houston's in Irvine. Great place, good food, terrible parking.
The next day with my mother-in-law. We said once a month after Christmas and it had been cancelled twice. Whoops! Lovely lunch and chatting. Oceans and Earth has all gluten free. Sadly I can't even eat the gluten free stuff but I had a hamburger patty and ate the potato chips in grape seed oil. Mostly discussing the new business she is starting with my husband and brother-in-law. It's very exciting but full of the starts and stops of forming a new business.
No workouts this week. I had stem cells again on Feb 2 and the little puncture marks in my stomach and recovering was going well but just not quite enough to work out. I sincerely hope to start over the weekend. I need it.
The weekend looms, filled with not large things but little. Just the way I like it. I'm up before everyone on Saturday but I hear G moaning and groaning his wakeup call and then elephant stomping down the stairs. Once I wander back into the kitchen, S has announced she made toast. Usually they are scared of the toaster (she has burned herself so many times) but she rocked it this morning. Perfect. Nothing to do, so I go tinker on the computer with work and evaluation stuff.
With Valentine's Day tomorrow I'm determined to at least do something small even with my diet issues. I couldn't find tenderloins yesterday at Vons so I figure I'll venture out in the morning and swing by the strawberry stand. I've been hearing raves.
Sadly the stand is closed. Sprouts doesn't have tenderloins, just ridiculously huge heart shaped rib-eyes. The next strawberry stand I visit is open – YES, they are so good, I shouldn't even be eating any – and then Pavillions is completely dark, their refrigeration system went out this morning. Foiled! I keep forgetting peppercorns for my shaker, I had even emailed myself.
The kids are bored silly at home. I need to clean my office, finish my picture collages, and actually see the wood of my desk. The last time that happened was three years ago. I luckily finish the pictures and get the rest stored away in my picture box.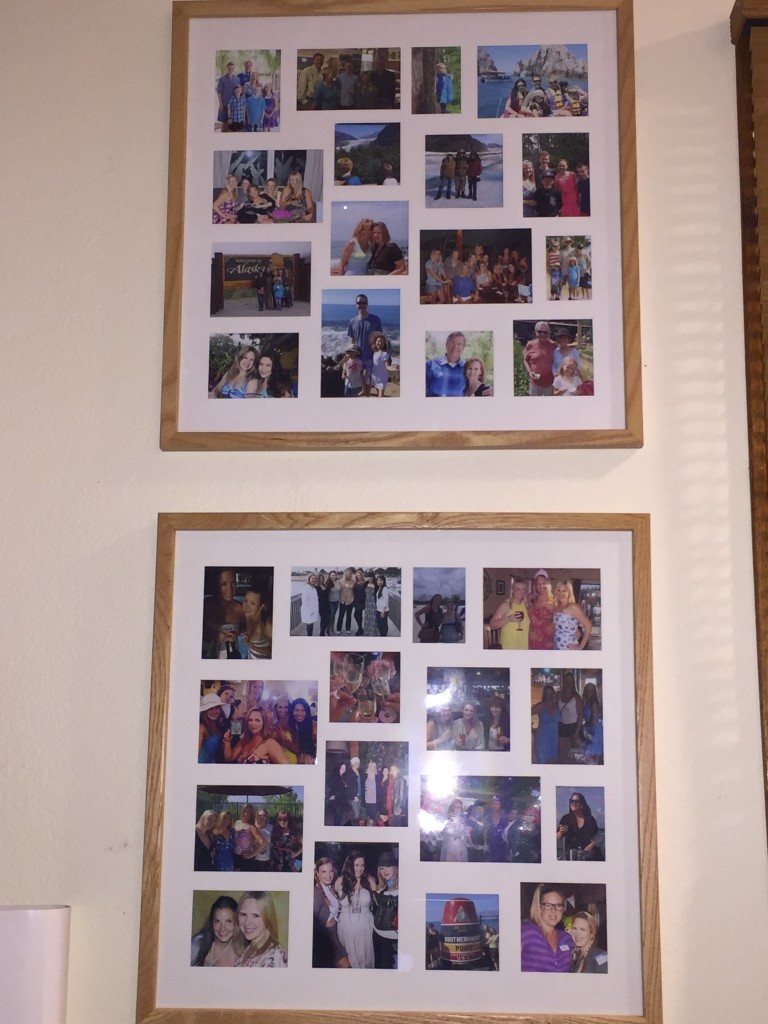 They continually run in my office asking when we are leaving to swim. Finally we get going and it's a beautiful two hours. A friend joined after awhile, she's going to spend the night with S. I read my first issue of Fast Company that I got for Christmas. Excellent article on Elon Musk, I just finished that Audible book and I literally can't wait for new inventions to be delivered to the mainstream.
In between that, I read on Twitter that Antonin Scalia died. One of the most conservative Supreme Justices and I start panicking because I have no idea what's going with this election year. The commentary on Twitter is amusing, horrifying, and I keep refreshing.
We head home but I stop by another Von's for steak. Yay! They look beautiful. The kids begged to stay in the car. 10, 9, and 7… I couldn't remember the rules but I'm pretty sure a 10 year old is okay in the car. I need to look up the law.
#GOPDebate – What a crap show. Trump being booed multiple times. Shouting, interrupting. Cruz telling him he's a child.
Honestly, the next nine months are going to be TERRIBLE in relation to this Supreme Court nomination. I am genuinely terrified.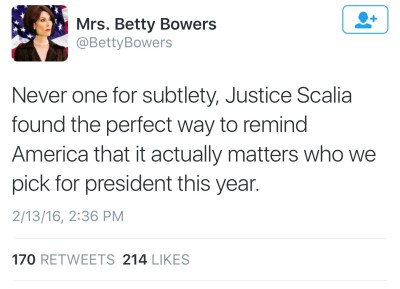 Choose wisely. PLEASE.
In better news, we took a break to watch three solo performances and two ensembles. Here was the finale.
Valentine's Day was lovely. I woke up after all the kids and my grand plans of making almond flour pancakes died a little since they had eaten. Then they went to the park and I worked out for the first time in two months (YES!) and when they came back I briefly thought about it again but…. nope! My office smells like flowers, thank you hubby!
S's girlfriend left, the kids played… I took one kid over to my Mom's and he promptly told me to leave…
The other kid, we did some Girl Scout cookie selling. We sold about 50 boxes which was fantastic. Sadly we have at least 40 of those ridiculous Gluten Free ones left… UGH. Bad bet this year. They sold fantastic two years ago.
Ended the night with some delicious dinner, the Walking Dead, and then I slept through Vinyl. Was it good? It didn't seem super good since I slept through it.
Then I promptly had insomnia from 1130-230. I hardly ever have it. Monday might be long.