This year I really wanted to celebrate my beautiful Mom's and have them over for brunch. All the time, they are hosting beautiful dinners at their home and it's always so effortless and beautiful. For Mother's Day I wanted to invite them over and have them do NOTHING and just enjoy the day.
I worked hard on my table and upgraded my tablecloth (thanks Bed Bath & Beyond!), purchased cushions for my chairs, and went and bought some lovely flowers from the local Yorba Linda flower shop, Garden Gate. (I need to give them a Yelp review!)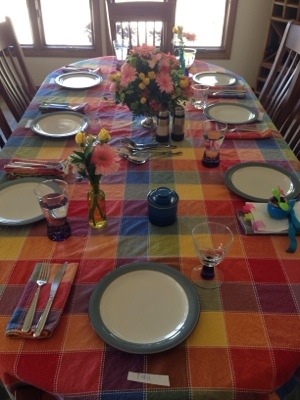 I thought it turned out lovely. I purchased some extra matching flowers and got two small colored glass vases in their favorite colors to send them home with a small spray of flowers.
They arrived and brought more beautiful flowers! (See the background of the pic of S and I.)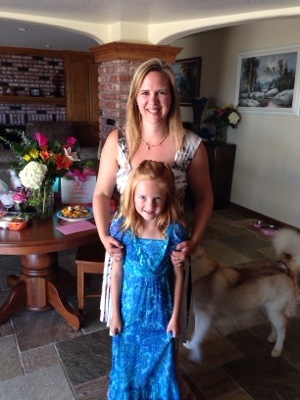 We cleaned all this morning and then I spent about two hours making some delicious items.
– Bacon. Naturally. I made so much, and then I ate so much. Oh well. It wouldn't be a perfect Mother's Day without bacon!
– Frittatas – They are my favorite egg recipe to make for groups. I still can't figure out how to flip the eggs to make an omelette so a frittata is basically the same thing. I made a large one with spinach, mushrooms, bacon, and a little garlic. I made a smaller one with spinach, tomatoes, and broccoli for my vegetarian sister. I also thought my Mom didn't like mushrooms but she ended up eating the mushroom one and my MIL had the other one! I love how you cook it on the stove for 5 or 10 minutes until it sets and then just stick it in the oven for awhile longer. It puffs up and is beautiful! Plus, we had a ton of leftovers so I will be eating yummy things all week! I also sent the sister home with some leftovers because there was no way I was eating it all.
– Pancakes – I wanted to try gluten free pancakes and these got raves! My picky (refuses to try no-gluten for a few weeks) husband said he loved those more than the waffles he made. Here is the recipe I made. I need to work on them a bit. The first one I ate was not even done in the middle! The last one was absolutely perfect. They are REALLY difficult to flip and they turn brown immediately. I made them really small, per the instructions, and it was still difficult to get perfect. But they tasted good so…
– Waffles – The regular flour Bisquick kind. 🙂 It got late so I had the hubby make them. I always feel like when I make them, he's coming around to adjust the liquid, or make them himself so I had him make them when it got late. I commented that he likes to do it himself anyway and I think I insulted him, whoops! Sorry hubby! He said they were always perfect when I made them! Oh well.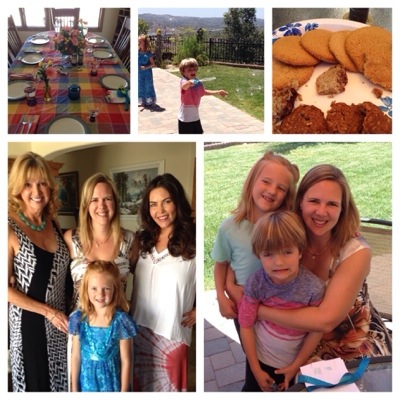 – I bought a whole bunch of delicious items from SCDBakery and forgot to put the coffee cake out. So I put it out for dessert. I had Apple Cinnamon coffee cake, oatmeal cookie bites, and lemon cookies. No one even wanted the Mother's Day buttercream cake from Alberson's I got, they all scarfed down the gluten free stuff! They were really good! The big winner was the oatmeal bites. I'm going to have to try those at home. It's so nice to buy stuff and have it delivered though.
– Cake – Albertson's. The kids were the only ones to have some, lol. It was $6.99 so it wasn't that bad.
We really just sat outside for almost three hours. The kids jumped in the pool and played for about an hour and we drank, talked, and chatted. The men went inside and did whatever men do. I think one took a nap actually. There may have been basketball on.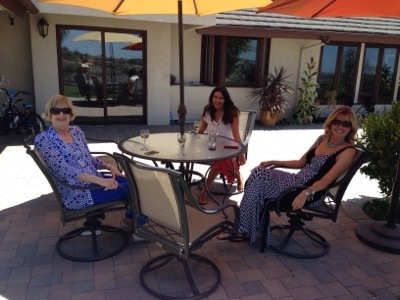 There were presents to open! Grandma JJ got a photo charm of the kids to add to her bracelet, jewelry and shoes.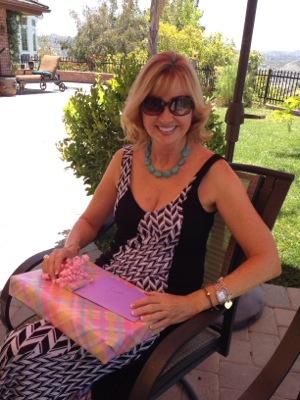 Grandma Nana got a shirt and jewelry. I got some beautiful earrings and some awesome cards.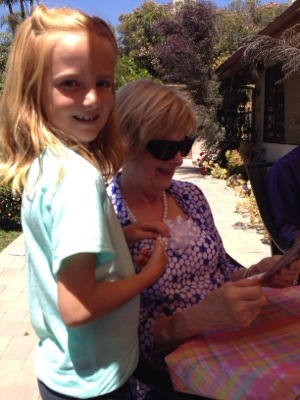 When everyone left, there was nothing to clean up thanks to the awesome husband and father-in-law! My kind of day!
I proceeded to go upstairs and hop on my computer… write a little… do a little work… I'm still on my phone/Facebook detox so it was nice to get on Facebook and see everyone's wonderful updates. I feel a little less addicted not having the Facebook ap. It's making me check in a bit more with my loved ones over text and phone which I like MUCH better! I have so many wonderful 'online' friends though… but I'm on my computer enough so I'm making it last!