It was fate. We were handed RED and you know that red is my favorite color.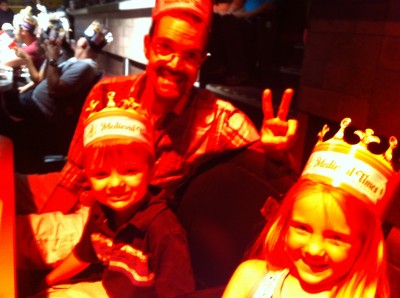 There is something wrong with that picture, isn't there? It's not even hipster Instagram'd, it just took it that way! The red spotlights were so bright! But yes, we were at Medieval Times!
** WIN ** If I'm too wordy for you, go comment below to win a FAMILY FOUR PACK (Valid for FOUR ADMISSIONS: Adults or Children) – LIKE Medieval Times Buena Park on Facebook and comment below to tell me when you last visited Medieval Times and what Knight you cheered for!
*** I counted up all the entries, cruised over to Random.org, and Jamie B is the grand winner!
Last April, we flew all the way to Florida to see the Pirate Adventure show and we saw a Medieval Times building there as well. We were just about to book plane tickets to Florida when we realized… there was one RIGHT NEXT TO OUR HOUSE. (I'm tired, sue me.)
I have been hearing raves about the new show that was developed recently at Medieval Times. I have seen the old show a few times over the years. Yes, it has really been AGES since I've been. Definitely before kids and a few years before that too. I really liked the Pirate Show and when we saw an opportunity to go check out Medieval Times, we jumped on it.
First, we had to get through G's swimming lessons, Sam's soccer game, a celebration lunch, and then luckily the kids went to go hang with Grandma JJ, before they came home and we got ready. We did our usual strategy of not telling the kids what we were doing. We find things go smoother that way. 🙂 We jumped in the car and told them on the way and they were filled with questions about what we were going to go see.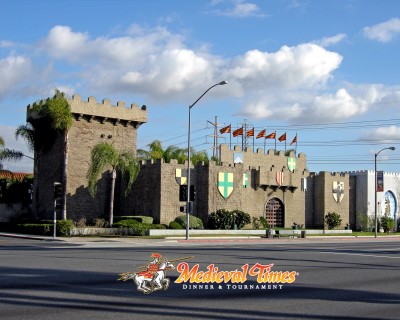 The building was the same as I remembered. We ran late so we didn't get to enjoy the festivities or the pre-show but we were able to sneak inside and grab a picture with the Duke.  Seated quickly, we sat down to cheer our Red Knight on!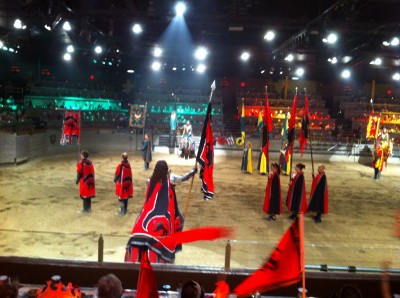 The food was… well it was delicious but I could only eat the chicken 🙂 The rest of it smelled wonderful though! The kids had their usual problem of eating with their hands. My kids don't like to get dirty, go figure. They loved the bread and the pastry though. We tore off a few chicken bites and forced it into them. 🙂
One of my favorite part was where the beautiful white horses galloped out in the beginning. Oh, they were magnificent. The training of how they danced, kneeled, and all sorts of maneuvers they did was simply amazing.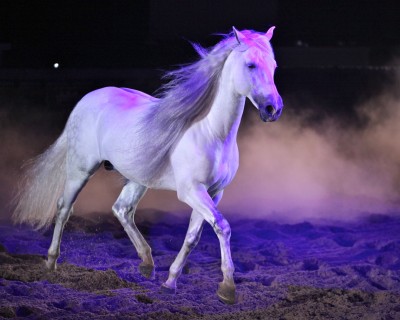 I think I was most impressed by the fact that the crowd was SO PUMPED UP. We were all screaming and very engaged with the show. Hopefully most people would not come and just sit down and not participate but every seat in the house was filled up and it was LOUD in there.
The best part was that the kids were enthralled. Sam was screaming so loud for the Red Knight, jumping up and down, and waving her flag. We had to show her the proper flag etiquette (ie. once the drinks were poured – do not wave that damn thing near it!) which she learned very quickly but she just had the best time.
Something I thought was sweet was that they read off birthday's and other special events. I'm sure that is an upgrade to the experience but it was really neat. The amount of birthday's there to celebrate was so cute, anniversary's were rampant, and there was even someone on their honeymoon! The King stopped and said – WHY ARE YOU HERE? haha 🙂
We moved quickly on to the show. If you are local here in Orange County, I'm sure you have gone at least ONCE in your life? This show is a must-see, as I said earlier I think I have gone at least 4 or 5 times in the last 20 years.
While the Pirate Show was really great, Medieval Times was more my speed. I could almost picture the jousting contests, like in one of my favorite novels 'Kingdom of Dreams' and it's so much fun to watch them do all those activities on horses. Obviously, Sam loved Princess Catalina.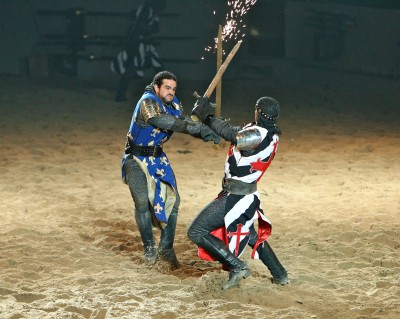 Sadly, our Knight crashed and burned FIRST. Ugh. Sam rallied and we rooted for the Knights on our side of the arena.
The big fights at the end… GG just loved it. The real sparks of all the swords. The realistic 'dying'. So cool. He came home and got out his own swords the next day!
The end result is that I highly recommend the show. The kids are already asking to go again and I can definitely see us coming back soon. It was a great time.
SO! Who wants to go check out the show in Buena Park!?? They are super awesome and letting me give away a family four-pack of admission tickets! You can use them for all adults or children tickets, up to you.
#1 – Do me a favor and go like their Medieval Times Buena Park Facebook page. Whoever is manning it is funny as hell and they are giving out tickets for random contests anyway. 🙂 That will get you one entry. Comment below to let me know you liked the page.
#2 – Comment below with the last time you went to Medieval Times and which color Knight you rooted for.
 I'll draw a winner on Thursday night.
*** I counted up all the entries, cruised over to Random.org, and Jamie B is the grand winner!
Disclaimer: I was provided a family four-pack to go visit the show. All crazy ramblings above are my own and are 98.2% true. The tickets I'm giving away have a one year expiration.  Good for all shows except New Year's Eve. Having this many disclaimers means there are too many lawyers. The professional looking pictures above were provided from Medieval Times. Chocolate is yummy. Keep smiling.