I wanted to give an update on my progress from my adipose stem cell replacement for Crohn's Disease and Interstitial Cystitis.
I'm going to be talking about poop, so if you don't want to read on, please feel free to skip this!
I feel better. I do. It seems incredible that I would just feel better from stem cell replacement but it is actually working. I sometimes think, do I just feel better because I got a good night's sleep? Because I ate particularly well today? But no, it's from the stem cells.
Crohn's Disease: 
I feel about 50% better. My daily, um, movements look completely different. That changed about two days after I had the stem cells injected into my IV and it really hasn't deviated. I went from unrecognizable but mostly solid movements once a day to rabbit pellet poops that look like recognizable brown poops. I do feel frustrated that it has swung so far in the opposite direction though. It's more on the constipated side of things and I don't know how to radically fix it in my diet. Whenever I have larger meals like steak or something fatty, it might resemble a 'perfect trophy' the next morning but I can't duplicate it on a daily basis. Frequently I might eat something (like cheese) or too much of it, and I'll go multiple times a day but they are still mostly rabbit pellets which is slightly frustrating however it's a huge change from what it used to be.
I've cheated from my very strict SCD diet and had french fries twice and had stuffed mushrooms at nice restaurants where I'm not totally sure of the ingredients and I have been completely fine. I went to Melting Pot two weeks ago and went TOTALLY crazy and had the brownies and cookies dipped in chocolate… It's been over a year since I have had brownies, ZOMG. They were amazing.
I do not want to go back to eating gluten though. I'm too programmed against it. Especially since we are dealing with my daughter's issues and trying to figure her out. I just think it causes too many problems.
I can't decide if I should experiment more with rice or potatoes or other things to try and get my daily movements (sorry!) to a regular person's normal.
Interstitial Cystitis:
I feel like this needs more time to investigate but the burning I would feel is mostly non-existent. My other problems that would happen from this disease are noticeably better. The problem with this type of thing is that it's not an every day issue. It takes time to figure out if I'm actually better. I feel better. I don't have the same things that would pop up but sometimes I have slightly different issues. In most cases, things are good and I keep crossing my fingers.
Second Stem Cell Procedure 
For auto-immune diseases, they recommend that you have 2-4 procedures to continue the healing process. A nurse in the office had fibromyalgia and had three procedures and it's been about 8 months since she had the first one. She told me today that she doesn't even remember what her pain felt like. It's completely disappeared. The first time things got better, the second time it improved more, and by the third her pain is gone.
Today I had my second one. It went great! The office is super fabulous, I love the people there. When I'm being a paranoid freak, they smile and agree with me and pat me on the head and make sure I'm feeling okay despite everything. haha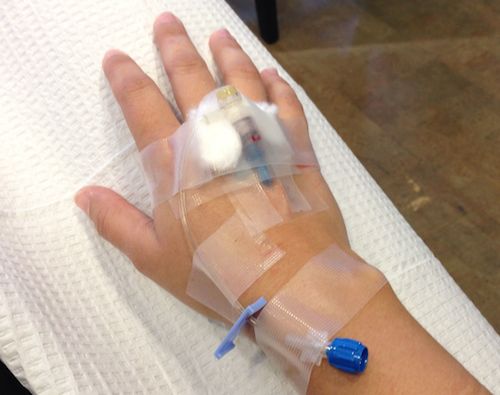 Above, my IV is ready to go. My veins are awful, terrible things so it took a few pokes which were fine, and then some bigger pokes which was zomg, it was okay, and then WHEW she got it! Sparing my ugly small disappearing veins, the nurse tried to get my blood (PRP) directly from the line but sadly after they 'spun it' and tried to do their magic, it didn't work. So we had to do another blood draw. She did awesome though. It just took two pokes and some digging, the second poke she got on the outside and had it immediately. I now have some tips for next time when I see someone else!
I actually forget what kind of magic they were doing but something about separating the cells from the blood… or something. They needed my PRP to spin with the stem cells.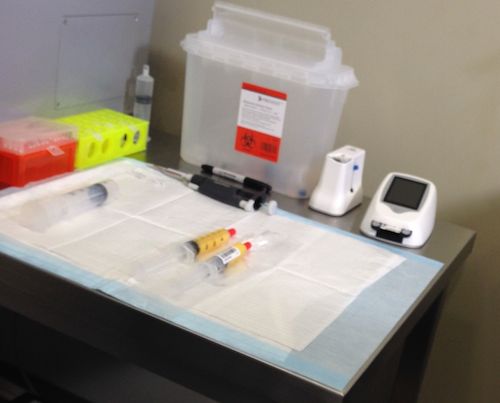 Above, my fat is ready to go. Twenty cc's of it, which they take only a portion of. I forget why. I probably should have taken notes.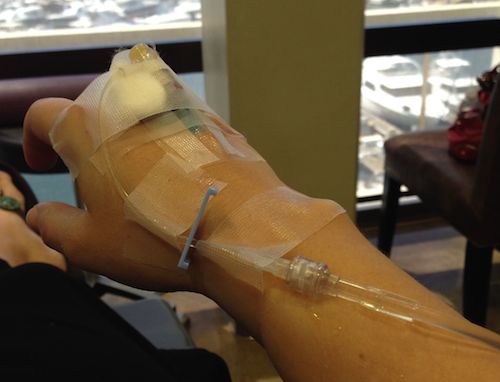 After all the fat was mixed in, and separated, and the stem cells were gathered, and then spun around ready to do their magic work, the IV was inserted.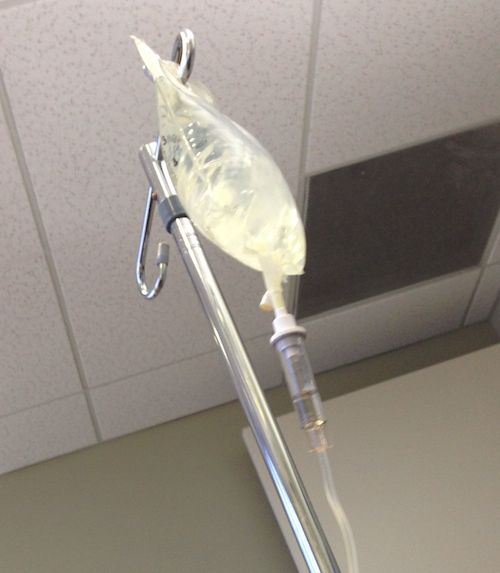 The IV bag of good stuff.
So the paranoid freak comes into play here. The bag of solution had been sitting under the air conditioning vent, or at least up in the air closer to the cold air. I'm not sure. So they are putting 500 cc's of liquid into me (or something like that) and after five minutes my hand gets cold.
Then, right under the line is cold. I'm trying to figure out if the small IV tubing is making my hand cold? I'm keeping a close watch on it. Because I am suspicious and paranoid, I think.
Then the cold starts moving up my forearm.
I casually say something… Is it weird my arm is cold? It my arm supposed to be tingling? I may have had her get a hot towel and warm up the IV bag. Plus then put the hot towel on my arm because it was so cold. I may have done that a few times…
Basically, I think I'm super sensitive. I have small veins. I'm super in tune with my body. Plus I have a healthy apprehension and paranoia going on that makes me start freaking out.
Otherwise, it's all good!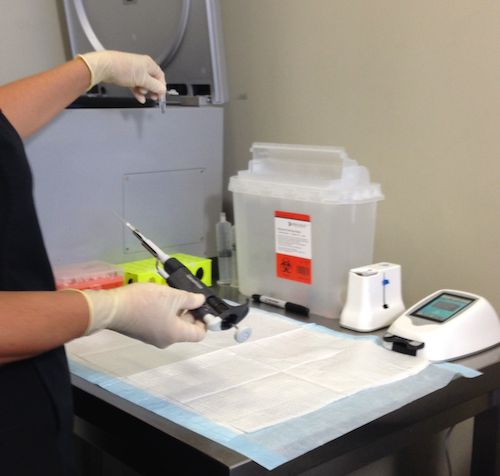 After my IV was in, she analyzed the stem cells and found that I had 600 million going in! Yea! That's with less fat and no tumescent mixed in, so apparently that is fantastic.
It's been a few hours and I feel great. I'm hoping for continued good results from this. 🙂