In 2012, my New Year's resolutions were to cook a turkey (by myself – not that hard, but still!) and to log every single book I read in 2012 in GoodReads.com. I achieved both! Woohoo.
I set a goal to read 250 books in 2012 and around July, I was on track to hit 300 but I stopped reading as much. I got busy and there were a lot of good TV shows on! So in December I moved it back to 200. I'm at 191 today with one book almost finished and I bet I will end around 197. Not too shabby!
First off, there are some crazy book deals right now.
Pushing the Limit – Raves all around and it's $2.99, down from $14.99 as it's Harlequin Teen. Just bought it.
Winter Sea – $2.99, down from $16.99 – Got some 'best book of 2011' awards. I have not read this yet either. I didn't buy it but I bought it for my Mom and Mother in Law 🙂
The Opportunist – $0.99 because her 2nd in the series just came out. Took my heart and stomped on it, I haven't read #2 yet!
Okay, so on to my favorite books of 2012. Reading almost 200 books this year, I am going to keep my recommendations to under 10% and separate them into categories. I really could not get into historicals this year. The emotions, the angst, the 'different' in Young Adult, New Adult (like YA but with lots of sex!), and Paranormal were just like crack to me. I had to have more more more. I read 4 different Urban Fantasty/Paranormal series this year that I just glommed on and adored. I got into a big reading funk the last part of the year though but I definitely came out of it and can't wait to read more in 2013.
Here are my stats for the year.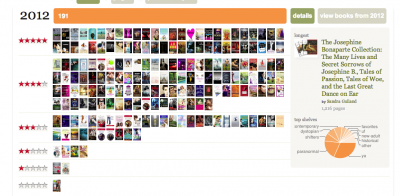 52 – 5 Star Books
96 – 4 Star Books
36 – 3 Star Books
4 – 2 Star Books
2 – 1 Star Books
1 – Not rated.
From this, I really want to refine my rating skills! I would like to have 20 5 star books in this list so I can REALLY recommend the best of the best. However, a lot of books are really 'good' and rate 4.5 for me, and I feel guilty rating books anything but 5 stars because I know recommendations really sell books. So if I am not going to type out a huge long recommendation when it's 4 stars but really great, I will just label it as 5 stars.
There are a lot of authors in my super fantastic Bookclub in Facebook and I am perhaps more sensitive. It's a catch 22 though because I LOVE reading critical reviews from other book reviewers, even if they think something is a "B", I know I would love it. So it really just depends who you like to read, and who else reads like you. There is a woman who if she rates something 5 stars, I want to read it no matter what. There is another woman that I follow on Twitter and if she hates something, I will probably like it.
Just one of those things. So on to the good stuff!
Young Adult
I have not figured out what really qualifies as Young Adult. Some of these might be a little mixed so hopefully I have the right category.
Slammed – Colleen Hoover – Hands down, this was my favorite book by far for most of 2012. It starts out as a sweet love story and you are plodding along and SLAM, you are suddenly dying and MUST.REACH.THE.END. I stayed up really late to read this book. I have told everyone, you just have to get past 25% and you will be hooked. Ms Hoover published this book in February and it raced through my bookclub. I read it in April and she got picked up by a publisher a month or two later. She has a sequel which is not as great but still pretty dang fantastic. I read them both, right after each other, and it was wonderful. She has a particular way of writing that just hits your heart.
Sea of Tranquility – Katya Millay – Another author that raced through my bookclub. I thought the title was a little weird and was going through a reading funk. I heard she got picked up by a publisher so I snatched up the book at $0.99 and still waited awhile to read it. Ooohhh, once I did, it was worth it. So worth it that I ended up buying the higher agency pricing for my sister, Mother, and Step-Mom. It's soooo good!
The Fault in our Stars – John Greene – At the top of most 'Best Of' lists for 2012, this book is about two kids with cancer. It is expectedly sad in unexpected ways. It's damn good.
Insurgent – Veronica Roth (Divergent #2) – One of the 'Hunger Games' post-apocalyptic/dystopian genres that popped up everywhere, the Divergent Series got picked up for movie rights this year and really surprised me. I think it's my favorite series after the Hunger Games (in this genre) and I can't wait for the 3rd novel. I loved diving into the relationship of Tris and Four in this book, and while Tris bothered me at some points, I think she had to go through all of her annoying emotions to really show what was going on.
That Boy – Jillian Dodd – Ms Dodd is an indie author and she is amazingly talented. Price is a huge factor in how I buy books and I waited patiently for 'That Boy' from Lendle.me and laughed out loud the whole time reading it. I LOVED reading about Jadyn's life and it was just so perfect. Perfect, sad, funny, just like real life. Ms Dodd has since brought her prices down on most of her books to (what I feel are) acceptable prices. Her sequel of 'That Wedding' many of my friends LOVED but I read it when I was in my book funk and just thought it was more of the same. I will need to go back later and read it because Ms Dodd is a fantastic writer. She started a new series which I have the first book too, and plan on reading it when I'm on vacation next week.
Delirium – Lauren Oliver – (Published 2011) This is the last of the 'best ofs' and it was the one I didn't love as much. I'm listing it because this series rose to the top in many of the 'dystopian' lists of the year. Ms Oliver writes beautifully but it may be too beautiful for me. The world building was excellent though, and the story was definitely unique. I liked Pandemonium, which was published in 2012, as well but I didn't feel it rated 5 stars. I felt the Divergent Series was a stronger and better dystopian. I am listing it here because I did like Delirium (which I read in 2012) and if you like the genre, you may want to pick it up and read it.
New Adult
Hopeless – Colleen Hoover – My favorite author of the year wrote a THIRD book. I crossed my fingers, bought and read the day it came out, and cheered when I was finished. Slammed is still my favorite of the three but it was amazing. It's completely new characters and is worth the $3.99 it's listed for right now. I'm assuming this book will be picked up by a publisher soon so you should buy it… she hit the New York Times Bestseller list, she just posted today. (The book came out last week!) The first half was amazing, and the few comments that have come out about it talk about how the second half has a little too much psychology in it, which I may agree with. However, the way she writes just resonates with me, and hits my emotions, and I just loved loved loved this whole book. I also won a Kindle Fire from one of her promotions earlier during the year… which is the coolest thing EVER. I adore my precious Kindle Fire! It's so much easier to read than on the iPad!
The Opportunist – Taryn Fischer – This is on sale right now. This was such a cracky book. It kept pulling and pushing you back and forth and I had to stay up so late to finish it. I was mad when I finished!
Easy – Tammara Webber – Another indie author that got picked up by a publisher so fast, Easy won the hearts of many people. It's really strong on dealing with a hard issue and has such wonderful depth, grace, and emotion in it. Completely rocks.
Reason to Breath – Rebecca Donovan – I was so scared of Emma's aunt this whole book. The emotions she evokes from you, keep you sitting on the edge of your seat. The completely crappy and annoying thing (I say this with love) is that the book ends in a cliff-hanger, so you better be ready to read #2 in the series. I didn't love #2 as much but I HAD.TO.READ.IT because this one was just so good.
Thoughtless – S.C. Stephens – Speaking of emotions…this book is about cheating. So many people did not like it, thought the main character whined too much (she did), thought it was annoying (it was), and wanted to throw their e-reader across the room (yep, that too). But this book was like CRACK. And Kellan Kyle should be my book boyfriend! Ahh! Another book you may want to make sure you have the sequel bought and purchased, you will just want to keep reading more about these guys.
Between the Lines – Tammara Webber – It's a book about movie stars. It's pretty fantastic.
Good for You – Tammara Webber – The 3rd in the 'Between the Lines' series – you don't have to read them together, it just makes it more satisfying. I think Good for You might be the strongest in the bunch but the whole series was fantastic.
Paranormal
I was a bad girl. People have raved and raved about these authors below and it took me SO LONG to finally read them. In order of 'must-read'… I think…
Shadowfever – Karen Marie Moning (Published 2011) – This is the LAST book in the Fever series. Why this one and not all the books? Oh because… OH MY GOD, Barrons. I don't know. The whole series is amazing, I sped through them so fast I don't know where one starts and the other ends. One weekend in February I went on a Karen Marie Moning kick and I stayed in our hotel room (we were in Vegas) and just continuously read (borrowed from the e-library) while the husband happily played poker. I have re-read the 1st in the Fever series about 2 weeks ago and she just came out with Iced, which is it's own series set in the same world. I'm afraid to read it because I REALLY want to re-read the whole series again first. I need to review! I just got #2 for Christmas that I want to re-read because I need more Barron's in my life. This series is on the line of 'I NEED in hardback' so I can flip through the pages anytime I want… however, I almost want them all in e-reader so I can have a copy on every single electronic reader I have available to me. The options… I just can't decide. I have #1 in ebook, #2 in paperback, and Iced in ebook right now. My OCD is rearing it's head… Just go start with Darkfever and enjoy yourself. I recommended this series to my brother-in-law yesterday, if you like creepy Urban Fantasy, this is for you. Not (too) much sex in it for the first few books at least!
It is based in Ireland where the wall is coming down between humans and the Fae, and other mysterious things.
Magic Slays – Ilona Andrews (Published 2011) – Another series that I neglected. This one was #5 in the series. This one is pure Urban Fantasy for quite awhile (not much sex in it) and is just PURE awesome. However the romance in it just tingles my soul 🙂 "Here, kitty kitty!" Love it. Start with Magic Bites. The series is awesome though.
Set in present day, where vampires, shapeshifters, fae, and humans all live together but did so when the magic came down. Sometimes the magic works, other times it doesn't, but all different worlds of life need to live together.
Angelfall – Susan Ee – This is a hard one. First off, the book was AMAZING. It's showing the world disintegrating because angels are coming down to destroy the earth. Oh no, they are NOT very good Angels at all. The world building is cool. There are incredibly creepy factors in  this book however I want to stab something once it ended because HELLO, CLIFFHANGER! And if that was not bad enough there is NO KNOWN DATE for #2! And it's supposed to be a six book series! The movie rights were already purchased (I believe) and the author posts here and there on her blog just basically saying 'everyone keeps yelling at me for #2'. Well no shit. Jeez. 🙂 I think it should be against the law to have a cliffhanger and not even have a date for the next book! If she dies and doesn't finish, I don't know what I will do. I have to know more. I have to know what happens next. So there. Good book!
Pale Demon – Kim Harrison (Published 2011) – "Kim Harrison, this! Kim Harrison, that!" Is what I pretty much heard all the time when I talked about liking Urban Fantasy. Yes yes yes, I know I need to read her. So when a Mom friend passed me along the first 4 books, I decided to start them. Damn it, they were good. The first was slow but the last chapter had me continuing to the next one. After I finished #2, I went to the library and checked out the next 8 books and just sped through them. They are funny. They are entertaining. They HARDLY have any romance in them. Which pissed me off because of Trent. I have Pale Demon as my favorite novel of this bunch even though it's the 9th in the series because we finally FINALLY get some closure on Trent. TRENT. I love Trent. I need more Trent. This series was great. Start with Dead Witch Walking.
Gunmetal Magic – Ilona Andrews – Kate Daniels World – I know I already posted about Kate Daniels above in the Magic Series, however this one is about Andrea, her co-worker…. co-owner? And it's the first in it's own series, although I hear we are going to get more Kate and Curran. This was actually published this year and it was fantastic. Her books just keep getting better.
Iron Kissed – Patricia Briggs (Published 2008) – The Mercy Thompson series was the 4th series I want to talk about. They were all published in earlier years but I finally caught up. Wow, were they good. More vampires, shape shifters, fae, and walkers. The reason I'm putting Iron Kissed as my favorite is because Mercy had some really traumatizing things happen to her in this book. I cried. I mourned. I just fell in love with this series. The next book comes out in 2013 and I'm hoping it's more focused on pack business. The last one was good but I didn't get enough pack! Moon Called is the first book in the series.
Contemporary
I've Got Your Number – Sophia Kinsella – I fell in love with Sophia Kinsella with her Shopaholic series. She is hysterically, laugh out loud, funny. I recommend everything she has written so far and her latest, published in Feb of 2012 is no exception!
On the Island – Tracey Garvis-Graves – Last but not least is another one of my indie authors from my bookclub who wrote a fabulous book and got pushed to the big time publishers! Completely worth it! A school tutor and her 16 year old charge crash in a small plane and have to live on an island for… quite a long time. I'll let you read it to find out. Loved it. I avoided it for the longest time because I was like EWWW, the age difference! It worked though. I was glad I tried something I was afraid to read because it really pushed on my emotions and let me accept something new. Highly recommend!
FINALLY…
There were SO MANY books that I missed! I'm going to post a few of my favorite 'Top 2012 Books' posts that I have come across in the last few days. All of these are books that I REALLY want to read, or highly agree with their recommendations! So check 'em out! And tell me what YOUR favorite book of 2012 was!
Mandi's Fav's of 2012 – OH my god, you have to read her weekly Top 10. She is hysterical. I love her recommendations though, I seriously can't wait to read Iced! I have heard SO MUCH about Tiffany Reiz too, I need to check her out. Tessa Dare is already in my TBR pile. Kit Rocha? Dystopian Romance? It's gotten so many great reviews. I'm scared to read it. Ruthie Knox WAS good, I only read one, I need to read the others!
Tori's Favs – Kingmakers! I need to check them out!
Jane's Top 10 – I just bought Pushing the Limits, I'm so excited.
Kati's Top 10 – I still need to READ Archangel's Storm! I adore Nalini Singh but I miss Elena. And Kristin Ashely, everyone RAVES about her. I must try Motorcycle Man!
Janine's Top 10 – I still need to read Graceling! I also purchased the first in the series of Ben Aaronovitch for the husband as I have heard so many great things!
MyKeeperShelf – Oh Kresley Cole. I want to read her! I also tried the first of Stacia Kane and I really need to move to the next book. It was interesting and everyone says they get better. Tough. That series was really harsh. Drug addicts and killing people but the main characters are strangely appealing…
RiffsandReviews – The Reverants look amazing. Oh, also Julia Kagawa… and Hex Hall? I've heard so many great things about Hex Hall!
That's it, whew! How many books can I read in 2013?? Hopefully just about the same! I don't want to burn out!