We went on the most amazing, luxurious vacation to the Island of Anguilla in the Caribbean last April.  I mentioned it very briefly back in May and posted my full photos in Facebook but never got the chance to do a writeup.  The reason I feel compelled to now? My sister is going to Anguilla to celebrate the marriage of her best friend, Sarah! I'm so excited she gets to visit the same island and exact same hotel that we went to so many months ago.  The parents are also considering going for Thanksgiving. Since I keep thinking about where they are going to go, and what they are going to DO, I kept wanting to write it all out for my blog so I can visit back here every year and remember. 🙂
We booked our stay at Cap Juluca, which is located on Moundays Beach which is the most amazing beach ever. I did SO much research to book this trip. This was our one big vacation in years and we knew that it would be another 5 or 10 years before we did anything like this again so I wanted it to be good. I wanted to lay on the beach and do nothing all day. Eat amazing food and read a lot of books.
I had thought about Fiji, Hawaii, Mexico and a few other spots but I decided on the Caribbean for a few reasons. It was closer than Fiji (although it did end up taking us 22 hours to get there), it was more secluded than any place in Mexico, and we had already been to Hawaii 5 or 6 times.
After deciding on the Caribbean, I looked into every single Island and had to decide where I wanted to go.  I wanted white sand beaches, so St Lucia was out. It was hilarious the amount of research I did but I LOVED it. It was so fun.  After I figured out 4 or 5 islands that I was interested in, I started looking at the hotels.  Cap Juluca just stood out in so many ways.  It was the winner.
The Grandma's were so happy to babysit for the 8 days we were planning on being gone. Well, they were nervous but willing! With travel so that really made it about 10 nights since we were leaving on a red eye on Friday night.  They were amazing and had SO many fun things planned for the kids.  I think the kids ended up going to the San Diego Zoo, Knotts, Zoomars, Disneyland, and Irvine Park while we were gone.  I don't think they even asked for us once. We didn't even call them, we stuck to text and email since we didn't want to remind them we were gone.
On a Friday night we dropped the kids off around 7pm at my Mom's house.  We got them all ready and then we went back to the house to finish off some final packing and then left for LAX around 9:30. Our flight was leaving around midnight. We flew to Miami and had a 3 hour layover that went to a 6 hour layover because of plane delays. Once we boarded the smaller plane from Miami to St Maarten, we were excited! We finally landed in St Maarten around 3 or 4pm local time and we had booked Fun Time Charters to take us over to Anguilla.
You can fly to Angulla or take a boat to the smaller island from St Maarten. Since there is only one flight to Anguilla each day (usually) and the planes are so often late or delayed, I decided it would be easier to take a boat.  There was the public ferry but since I knew we would be exhausted, tired, and confused, I wanted it to be as painless as possible.  Fun Time Charters picked us up from the airport and drove us about 300 feet down a road and pulled into a small harbor.  We ended up waiting about 30 minutes for another couple to get there. We also didn't know there was a bar sitting next to us where the couple was AT so we missed out on that. It was okay though. Once we got in the boat, we had to go over to customs. They ran our passports in and we waited another 15 minutes while the boat floated around. At this point I was wondering if the public ferry would have been faster. Finally they came back and we sped over to Anguilla. It took about twenty minutes so it was pretty fast. As the public ferry was located about twenty minutes by cab away from the airport and on a slower boat, we might have tied them.  It was fine though.  The return trip via Fun Time Charters was much faster and they were very convenient. The one thing I must mention is that Cap Juluca makes their reservations through Fun Time so when we were checking out of Cap Juluca, we told them we were taking Fun Time (I had booked it myself) and they charged us thinking that they did it so we were doubled charged! They got it all figured out once we got home though.
Arriving at Anguilla was very easy. They took our luggage, we went through security, and Cap Juluca had a taxi waiting for us to take us to the hotel.  When we were checking in, it was like paradise. They gave us a rum punch and sat us down and made it super quick to get us to our room.  The fantastic thing here is that I had booked a 'Luxury' room at the basic room price as one of their specials.  When we came to check in, they upgraded us for free to the Jr Suite!!! I was so excited! While you don't spend all your time in your room, it can be the most important time because that is where you do your relaxing.  We ran in to a couple who had the standard room (which I'm sure was beautiful) but they said it was so cramped and they could hear everything through their walls. I felt soooo lucky that we had the most amazing room ever.
Once we got into our room, it was already dark and we were starving.  We decided to go down to dinner after a quick shower.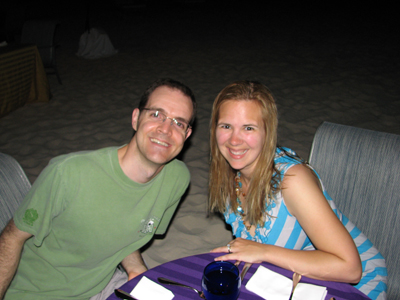 Eating dinner on the beach for their "Blue's Buffet" night was amazing.  They had tables on the beach where you could dig your toes in the sand, tiki torches, and a band playing.  Not only was the setting super romantic and amazing, the FOOD was the best. If you ever have the chance to go to Cap Juluca's beach buffet, you must do it!  We tried to go the next week on our last night and were so disappointed when it was closed without warning because the wedding party who had taken up most of the hotel decided to go elsewhere.  We were looking forward to having the buffet again on our last night after we realized it was the best thing there. We really appreciated it when we had it though and were lucky we didn't order room service! The outdoor grill was serving lobster and crayfish and they were the tastiest thing I had.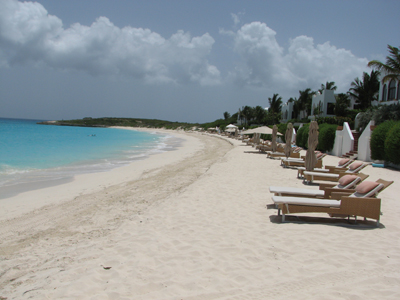 On Saturday we basically slept the night away.  I think after awhile I went down to the beach while the husband slept and slept the afternoon away.  On my trip planner (yes, of COURSE I had one, duh!) I had that I wanted to go to Smokey's on the Cove on Saturday. Everyone always raves about Smokey's because they say the entertainment is the BEST! The Musical Brothers' play there every Saturday and since Anguilla is such a quiet island, there is usually only one or two places that have live entertainment per day so everyone flocks to them.  Smokey's has entertainment on Saturdays. At lunchtime.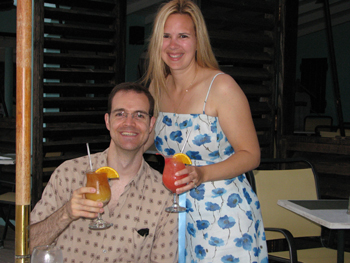 Therefore, when we walked to Smokey's from our hotel for DINNER on Saturday we completely missed it. 🙂 haha – It was about a mile walk and really pleasant.  The food was amazing though. I had crab cakes as an appetizer and the snapper with french fries for dinner.  YUM! I was in the mood for some french fries. The fish was amazing though and I LOVED the crab cakes.  They had a big tent on the sand which you could tell was where everyone was at just a few hours earlier.  It would have been nice to listen to live music but it was nice to have the entire place to ourself for an early dinner too.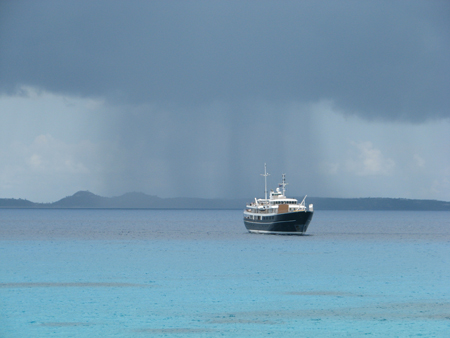 The view from our hotel balcony.  Anguilla is a quiet island because of the fact that cruise ships do NOT stop there but they do stop at St Maarten so we get to see them cruising past us on a daily basis. It also rains a lot and while our island had no rain we could see it over at St Maarten!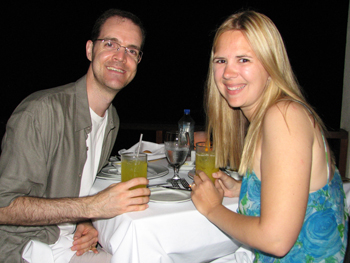 Sunday was again a day of relaxing. Our beach was simply amazing. We would come out of our room and walk around to the beach and the bartender would bring us over an ice cooler with waters for us.  We could grab snorkeling gear and look for fish (not many), float on floaties in the beach, and just read.  For dinner, we went to Da'Vida for dinner. I think Da'Vida was my favorite restaurant outside of the hotel.  It reminded me of Hawaii with the open walls and tikki torches.  I really liked the layout and the ambiance. I had the crayfish which was delicious. The husband had something with coconut on it that he really loved. I hate coconut so I can't comment.
Monday was our day for actually driving in our rental car.  I really wanted to go and visit the new Viceroy hotel.  Everyone had been talking about it.  It was pretty amazing.  It was basically a huge marble hotel, very traditional hotel with about 4 or 5 stories of hotel rooms. Did not seem right for the island of Anguilla. Huge pool in the middle but no beach. They had to take you by golf cart to the beach.  It cemented my opinion that Cap Juluca was pretty darn amazing. If you want a huge marble hotel like that, go to Hawaii. They have some beautiful ones there.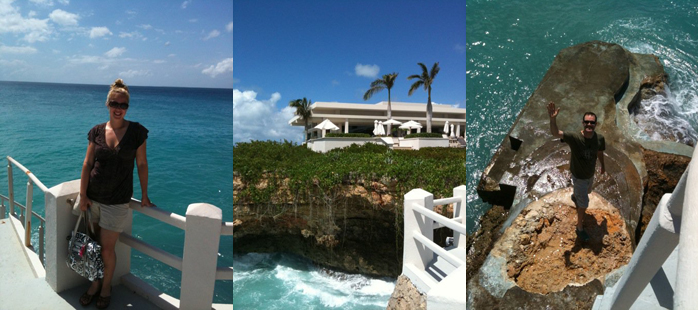 It has this little stairway that led down to these rocks were we took these mobile photos.  The picture in the middle was where the pool was located and their restaurant.  It was really windy being at the apex of the island.  For lunch I had the Santa Monica for me and chicken sandwich for hubby. I wrote what I had months ago and I have no clue what the Santa Monica is right now. I'm thinking it might have been California rolls because I remember being impressed that they had sushi (yes, I know CA rolls aren't really sushi but they had other stuff) and I know I was trying to be healthy.
After lunch we had booked massages at Cusinart Hotel! Cusinart is the 3rd 'luxury' hotel on the island of Anguilla.  You either love Cusinart or you love Cap Juluca. (I suppose some people will now love Viceroy, not sure who those people will be…) but I wanted to go see if we had made the right choice.  Of course we DID.  Cusinart is very beautiful though. The rooms were more rambling, they had an amazing pool but their beach was not very good.  It seemed to be more of an older crowd with a lot of kids there.  Cap Juluca is more romantic and their beach is the best.  Cap has no pool but you don't really need a pool with the beachside service, amazing lounge chairs, and bartenders there!
So the massages were great though.  Cusinart has the biggest spa around, actually the biggest spa in the entire Caribbean, I think they said? It was really nice.  However, I'm spoiled, and I tend to judge spas on their showers in the bathroom.  If you have ever been to the spa at the Montage in Laguna Beach, nothing can beat that.  It was fantastic though and the massages were so relaxing!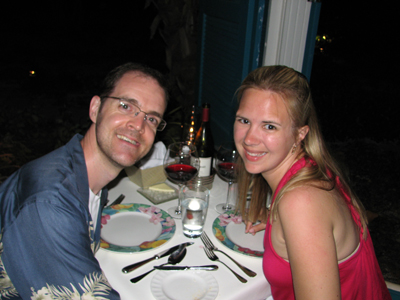 Monday was our night for dinner at Blanchard's. Everyone said we had to go to Blanchards when we were at Anguilla. Also, when I say everyone, I mean all the people at the Anguilla Forum which I haunted for months before our trip. They were amazing on recommendations.
For dinner I had the Mahi Mahi for me and the husband had steak?  He had coconut ice cream for dessert which he said was the best he ever tasted.  The ambiance was really nice at Blanchard's. It's definitely a mainstay and you should go if you are on the island.  They had this little garden to look out to, with fountains and little paths and you could hear the beach in the background.  It was really beautiful.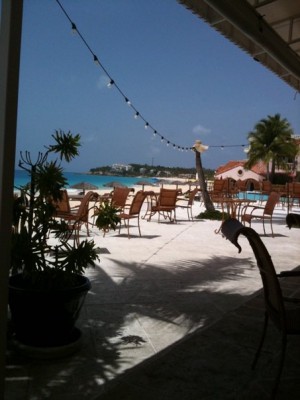 Tuesday was another drive around day.  Straw Hat was also listed as a 'must visit' and was located by the Viceroy hotel, which I didn't know.  The beach it was located on was AMAZING.  Probably the second best beach next to ours.  If we every came back, it would be fun to get an apartment or place on the beach here.  I had the fish and chips while husband had the club sandwich.
Afterwards, we drove to Sandy Ground which was on the east side of the island and then Shoal Bay East to look around.  Driving on the wrong side of the road with roundabouts was giving the husband anxiety attacks but it was fun to look around.  I really wanted to find some souvenirs but there is really not that much shopping on the island. We tried a few places but it was fun to drive around and look.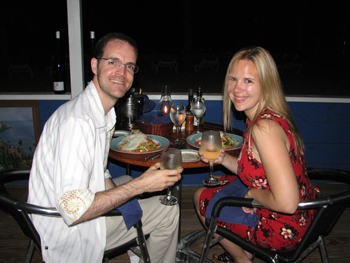 Our Italien dinner night was booked at Trattoria Tramonto. This was the dinner I liked the least. I didn't feel there was anything special about the Italien food and while the restaurant was on the beach and overlooked the water, I didn't feel that it was very magical. There was nothing wrong with the food but it didn't 'wow' me. I had the handmade egg noodles with pesto sauce and the husband had the Lobster ravioli which we had heard got rave reviews. I think he felt it was 'okay'. We had a yummy bottle of Pinot Grigio to go along with it.Many of the reviews talk about going here for lunch because Shoal Bay West is an amazing beach and you can actually use their beach chairs to dine. We went at dinner and could not see much although a few of the trees were lit up by lights. I would definitely agree that it might be a great place for lunch.
At some point during our trip we had driven past an Italian restaurant that was at the top of a cliff. We walked in but they were closed for lunch. It looked delicious and I wish I could remember the name! (An AnguillaForum.com member pointed out that it was Luna Rosa!)
Wednesday we had a sailing cruise booked with Captain Rollins from the boat Chocolat! If you want a sailing cruise, you have to call Captain Rollins. It's amazing.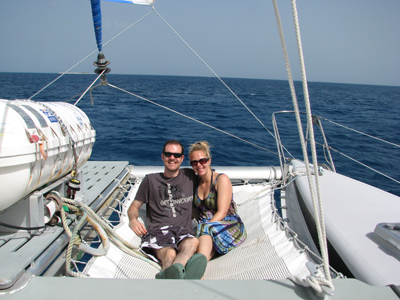 We cruised over to Prickly Pear Island and relaxed on lounge chairs with strawberry daiquiris and an amazing lunch.  I had the mahi mahi and the husband had the chicken. Then we cruised over to Sandy Island and walked around for a few minutes and swam back to the boat.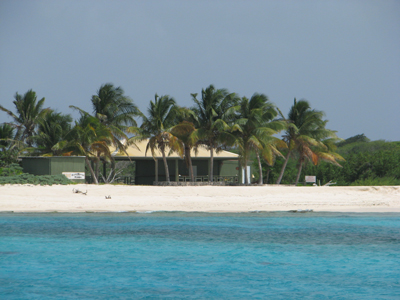 When we were on the boat it was using the motor to go for about twenty minutes and I was thinking, well this is nice. Then Captain Rollins unfurled the sales and BOOM. Super slow and relaxing time.  It was weird to get used to for awhile but when you sat back and relaxed, it was amazing.  I wish I could drink more because that would have been the perfect time but we just sat back and chatted with some new friends and enjoyed the ride.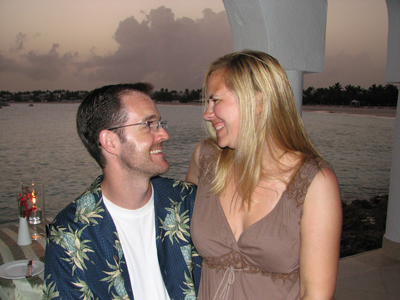 After our all day excursion, we were tired and had booked dinner at Pimms in Cap Juluca.  When we entered in the restaurant we met Wanda.  Wanda was so friendly, nice, and amazing.  She took our camera and took about 10 photos of us, one of which was the one above.  I was cracking up and wished I had actually put on makeup that night.  This outdoor restaurant with the waves lapping on the rocks below us was unbelievable.  I had the Sea Bass with an amazing mushroom wonton for an apetizer and the husband had the red snapper. We shared a bottle of Pinot Noir which was delicious.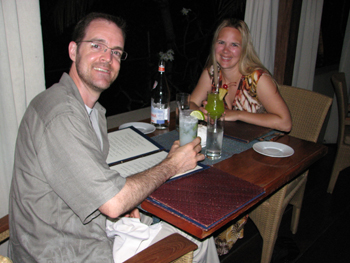 Thursday night was really nice as we went to Veya.  A relatively new restaurant that was getting a lot of wonderful reviews. It was very posh. It was located in a place that reminded me of a treehouse. They had musicians entertaining people that night and the wedding party at our hotel was here so it was a little crowded.  The food was really good.  I liked it but I think it wasn't my absolute favorite.
Friday was our last day on the island and I think we spent the whole day at the beach. We wanted to do NOTHING all day and I think we acheived that. We had beach service for lunch, I think I had the club sandwich.  Actually I think we shared it.  They had some people walking up and down the beach selling jewelry so I finally got some gifts for people.  For dinner, as I mentioned above, we were counting on the buffet on the beach again because it was on the schedule. However, when we walked down to go eat, no one was there! So we went to Pimm's again which was just as good as the other night. Actually, I think I had the exact same thing it was so good before.
Saturday we packed up our things to leave.  It was a beautiful hotel room and I took some photos.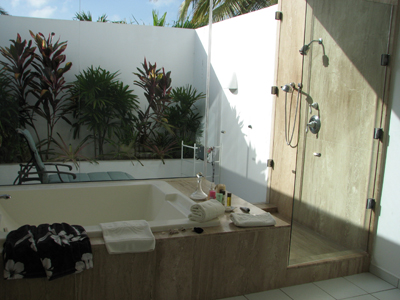 The bathroom was huge.  It was really three rooms. You entered in with 2 closets, then there was the vanity sink and the toilet, and then you walked in to a huge area where you had two sinks and then the bathtub, shower, and private sunbathing area. Soooo nice!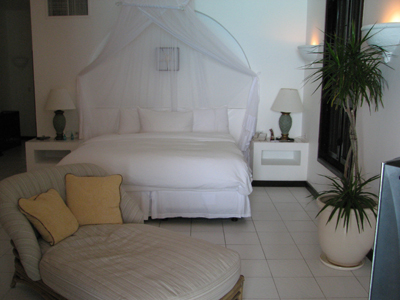 The bed was amazing. There were tons of pillows and we loved putting the mosquito netting around us at night.  The little lounging chair in front of the TV was super nice as well.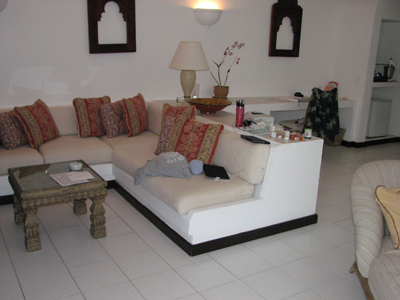 We didn't sit much on the couches because the bed was comfier but it was a nice touch.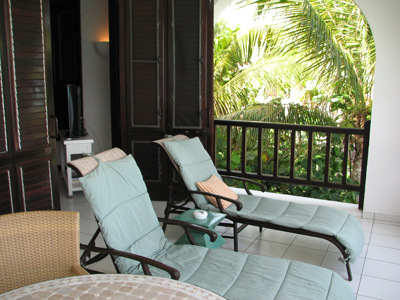 This was our balcony. We had two lounging chairs as well as a table with bench seating around it. Perfect for morning room service, although most mornings we walked to the buffet for fresh fruit and omelette's.
It was the most amazing vacation and we will always remember it!