Wow.  Griffin (Griffy, GG, sweet baby G) is TWO. Wow.  It was two days ago. I'm a little late.  But I almost can't believe it.
He's talking so well. "I wear Mama's SHOES!"
He smiles and gives kisses when I ask for them.  He follows Sammie around and around and around and laughs for the sheer joy of it. He is such a sweet child, I'm so happy we have our Griffin with us.  Yes, he has his moments of whining, moaning, and yelling but lately he has been so curious and happy to just simply be.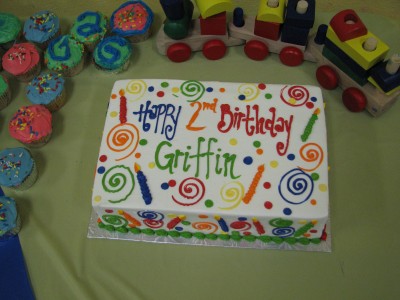 Stats for G:
Birth: 7.6lbs, 20in
2 Month: 12.9lbs, 23 3/4in
4 Month: 15.10, 26 in
6 Month: 17.1, 27 1/2in
9 Month: 20.1, 29 in
1 Year: 21.14, 30 3/4
15 Month: 22.6, 31 1/2 in
18 Months: 22.14, 32 in
2 Years: 25lbs, 34 in
20% for weight, 45% for height
Stats from Sam to compare:
Birth: 7.1 lbs, 20 in
2 Month: 10.6, 22 1/4 in
4 Month: 13.6, 24 in
6 Month: 15.9, 25 1/2 in
9 Month: 18.4, 27 1/2 in
1 Year: 19.14 lbs , 29 3/4in
15 Months: 22.1 lbs, 31 1/2in
18 Months: 24 lbs, 12 oz, 32 ½ in
2 Years: 27 lbs, 12 oz, 34 1/2 in
60% for both weight & height
Oh, I worry about my short little guy. It's ok to be short. Never mind the fact that his Papa is 6'2, his maternal Grandpa is 6'6 (great uncle is 6'8!), although his paternal Grandpa was 5'8, I believe.  And I am short. *sigh* If the 'double the height' at two works then he shall be 5'8.
It didn't work for me. I was supposed to be 5'10. *ahem* Well, I AM 5'10. In heels.  I'm actually 5'6. Almost. It will all work out, I'm sure.  It looks like he is not catching up to Sam's stats though which is kinda funny.
What I am super happy about is that he is EATING new THINGS! It's slightly amazing. I read something about making kids take one 'No Thank You' bite of foods so I started it with Griffin. I really didn't believe he would go along with it and he is now! He has eaten chicken nuggets (and liked them), different pastas, and actual fruit. So amazing.
My sweet baby G. Love you! So happy you are TWO!