I feel like I've been chasing sessions to get some actionable tips that I can use and I have high hopes for this session. I feel like I have our remarketing really oddly set up so I'm interested to dive into it.
Erin Heffernan is up to talk about B2B Remarketing.
Erin is an account manager with Optimedia out of Chicago. She's a Packer's fan and a few people sigh next to me.
She goes over Remarketing.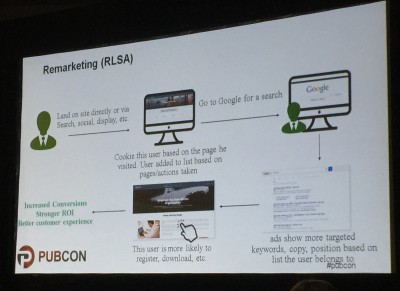 Then GDN, through text ads. Instead of Google, it's browsing other websites.
She goes over the search conversion funnel where you have generic category searches and going into smaller tailored searches.
Looking at goals for remarketing, you have the demand generation and then awareness. Where she usually ignores is the low conversion value and low volume. There is no value so you can decide if you want to chase it.
Remarketing cookie collection is how you are going to collect the cookies.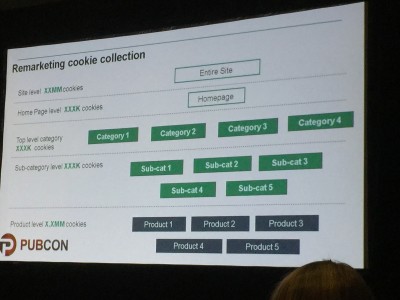 Something to keep in mind is how many lists can all these people be on? Be careful about ad fatigue.
Make the Biggest Impact
Experience – good landing pages for goals, cross promoting and moving them deeper down the funnel
Ad Copy/Ad Formats – update the copy to goals and user lists, experiment with different ad formats
Bidding – Set appropriately based bids based on the user value of specific lists.
GDN Ad Formats – Responsive Ads – one ad shown three different ways. Banner Ads. Text ads are working really well for Erin.
Bidding
One thing to keep in mind is that she will look at different ways to do things in the campaign. She doesn't just use a bid modifier, she wants 100% impression share for remarketing.
Okay, on to the good stuff! Tech stuff and list implementation! She says she doesn't have much time though!
Membership duration – set it up for the sales cycle! Keep it in mind. For Erin, she keeps it on for much longer. Customize for each list.
Reach and frequency report – frequency capping .
Custom combinations…
Take advantage of low hanging fruit, have a strategy, and always focus on experience.
Erin was a good speaker but I knew most of the  information she went over. Still valuable to hear though. I need to go back in and really work on my responsive ads.
Jim Banks is up. He talks about his background and he wants to go over B2C and e-commerce. Yes! I'm hopeful. I want that one piece of info that will help me…
What is he covering? How many types of remarketing items are available? Also, how to set up dynamic remarketing (I'm waiting for our programmers to help me with this!).
Types of Remarketing
Bid Only
Target & Bid
Dynamic
Bing/FB/3rd Party (Criteo, Perfect Audience, ADroll)
Negative
With Bid Only, it can be keyword based, modify bid, positive or negative, and a few other things.
What is the value of an existing customer? Much higher.
Set up a 30 day list – watch that day depending on your sales cycle. Make sure you minus out the past purchases, even better if you can upload your customer list. Don't make too many audiences.
Just go to Shared Library in your audiences and set it up.
With Target & Bid – you can change the message based on previous interactions. Existing vs new, more broad keywords with target restrictions. Different creative.
What's the best practice? Set up a separate campaign with lots of ad groups with different configurations.
Topic, affinity, gender, age, keyword
Think broad keywords
Dynamic – Lots of moving parts with the merchant center feed and shopping cart configuration anomalies.
You need to add custom parameters to your tag which is very difficult. Jim goes over some standard stuff like make sure your products all have white backgrounds and a high resolution.
High quality images
White background
Include all products, even if you exclude in Google Shopping
Setup Image, Text and Native separately – unless time-strapped
With Bing/Facebook/3rd Party –
Bing has less traffic but it's easy. Facebook is the most interesting if you get it right. Conversion events are standard. Facebook has 9 of them but you can make your own. If you don't have the time, just hire an agency.
The FB pixel setup is the most important thing you will learn here. Facebook has analytics for apps but two weeks they added pixels too. Here is the blog post they came out with. It's in beta but available to anyone.
At the moment, the data only goes back to September. It will include revenue, users, ages, everything. It's all native to Facebook and much more detailed.
Q – With dynamic remarketing, she recently set it up for a client, to test it she left her IP excluded. Then she realized that she had been to every page of their website. How does she test it?
A – Jim says you need to trust the process. If you look at how dynremar, more than one product is shown. The one you looked at plus others.
Q – In travel, something wasn't working very well.. What is the… I don't have this question at all.
A – Jim says he used to work in travel. With Cristio (I have no idea what that is), they were the only people who would show the traffic. The exchanges came out, so rather than paying the market rate, Cristio is auctioning it off.