Ever since I got pregnant with Griffin and started having health issues, the computer has always been my friend. When I was diagnosed with Crohn's in 2010, I always include Dr. Google in all my research. However, Dr. Google always leads me to fun sites such as Lifescript!
Lifescript has a whole section on Crohn's Disease that was extremely informative. They are constantly updating their articles and have some great advice. They have a great overview of the basic questions, problems, and solutions there that is easy to read and understand. Of course, while my current solution is diet – which is not medically advised – I tend to ignore that stuff and go a little bit more 'woo-woo' but it's so nice to find a great site that is helping gather people together and educate. The Crohn's Health Center is one of 66 new health centers on the site so it has a huge gathering of information! Lifescript Health Centers are designed to help women live healthier lives with tons of great articles, interviews, and lifestyle tips.
I was introduced to Lifescript by my friend Laurie whom I met on the Interwebz. She is a romance reader AND writer and I've had the privilege of beta reading her first novel, and I'm about to beta read her 2nd!!! So when we chat about social media and romance, she knew I have been being extremely healthy lately and wanted to know if I could host a giveaway for an extremely cute yoga mat from her company!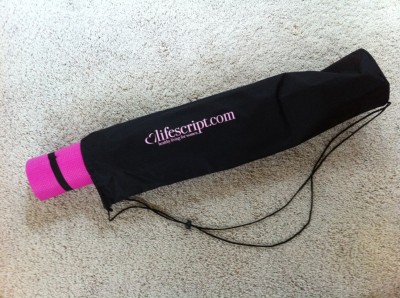 Perfect for doing those workouts in your house or taking to a yoga class. It has a fun little holder and the mat is bright pink! It's super cute! (She sent me one to test out!)
I am going on a fun yoga excursion in January so if you tell me your favorite yoga pose in the comments, I'll pick a winner on Thursday night and Lifescript will send out your yoga mat to anywhere in the continental US.
This would be a cute Christmas gift for your favorite health nut. Or just a fun thing to take with you in your car in case you get the yoga inspiration. Also, Pure Barr is having a Groupon these next two days for Anaheim Hills so if you want to jump into that craze, there ya go! (I'm too scared!)
WINNER: Celeste! I emailed you! Congrats!
Sponsored by Lifescript. Shipping to the continental US only. Void where prohibited. Smiles are contagious.
About Lifescript: One of the fastest-growing online healthy living publishers, Lifescript.com attracts 10 million unique visitors monthly and is the leading website focusing exclusively on women's health. More than 7 million readers also subscribe to Lifescript's six daily email newsletters. The company has offices in Mission Viejo and Beverly Hills, Calif., and in New York City.