Since it was supposed to be 80 degrees, I decided to throw Sam in panties and play outside.  Basically we've had pee in the potty about once or twice in the past year.  We ask her everyday if she wants to GO on the potty and she always says NO, so we hardly do it.  We have a potty chart, stickers, sticky gem jewels, prizes (they are kinda lame – sez me), and all that stuff.  I honestly think M&Ms would do the trick but hubby says no way. LOL  – Actually, I don't know if M&Ms would work because she has to want to do it.
So, the first time she runs to me saying 'pee pee is going down my leg!' which it was.  Which was why I had two pairs of pants, two socks, and 2 more pairs of underwear ready. haha
Twenty minutes later we were outside and she says, "Sometimes the pee pee will run down my leg. Sometimes." Which I replied, "Yes, but if we go and sit on the potty, the pee pee can go in the potty instead!" She smiled and nodded.  Thirty seconds later… "PEE PEE is running down my leg!!!!!" I should have known.  But it was progress!! Except the next two times were surprises too.  I put her in pull-ups after the third time and she actually TOLD me when she went pee the first time. After that though, she didn't say anything, I just would find out the next time we went to sit on the potty.
I really HATE potty training.  HATE IT. LOL
We had a really nice time playing outside today.  We set up G's new sand and water table for his birthday and along with our older plastic climb and slide thingy we got two years ago, we were having fun!  After awhile, G was getting tired and I wasn't sure what to do.  Should we jump in the car for a short nap? Should I put on a show for Sam while I tried to nurse him to sleep upstairs?  I decided that since I was being so brave potty training Sam, I would just suck it up and try and put G down again.  I sat him in his highchair and stuffed him full of food and about 5oz of milk from a sippy cup and we went upstairs to do our routine of books and a song.
One hour and thirty minutes later he finally, finally stopped crying.  I had to peek again…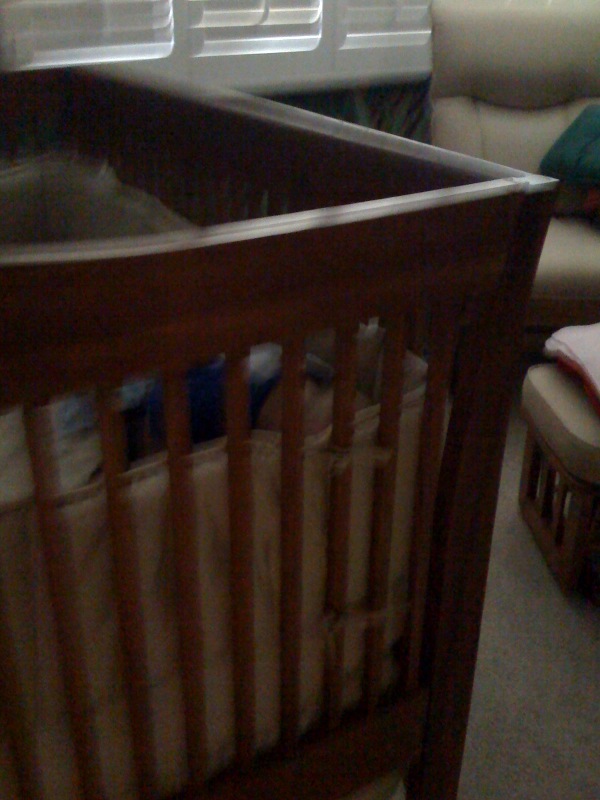 I know it's blurry but that is his neck that you can see through the slats. He was sitting up again with his head slumped in between his legs. It seemed a little easier today though, probably because Sam was harassing me to play, to eat, etc. etc. so I had distraction.  So, I think the next few days I will be occupied seeing if I can actually get Sam to recognize when she has to pee and TELL ME and at the same time, hang out at home and see if I can get Griff to recognize that when we do our naptime routine, it means naptime.
I dunno though.  After he fell asleep, he slept for about 35 minutes.

I had managed to get the hubby to take Sam to her learning skills/pre school class that she takes once a week so I could stay home while he slept but it wasn't long.  Then, he wanted to go back to sleep on me after he got up.  I kind of prevented that by talking to him a bit but I let him relax for another 30 minutes.
I feel a little bit better about it today now that I have a plan for a few days.  It's all in the attitude, right? Or something.
Where is my cookie?